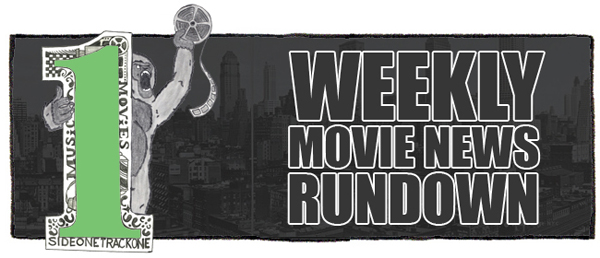 Time for your weekly movie news update!  Below you'll find a slew of sentences meant to provide a brief glimpse of what's been going on over the past week in movieland.  If something leaves you desperate for more info, then my advice is to do a little extra research on one or all of the following fantastic sites:  Latino Review, Dark Horizons, Ain't It Cool News, CHUD and/or JoBlo.  Read on!
Michael Green (Green Lantern) has been hired to pen the script for Blade Runner 2.
Chris Columbus (Home Alone) may direct Pixels, which is said to be about video game characters that escape into the real world.
Tom Hardy may play Elton John in the biopic Rocketman.
Lots of Guardians Of The Galaxy casting going on.  John C. Reilly will play Rhomann Dey (a sort of Agent Coulson for the Guardians), Karen Gillian (Doctor Who) has been cast as one of film's villains, and Glenn Close has been chosen as the leader of Nova Corps.
Scarlett Johansson, Reese Witherspoon, Jessica Chastain and Amanda Seyfried are said to be in the running to play Hilary Clinton in the biopic Rodham.
Despite rumors that included names like Christoper Nolan and Nicolas Winding Refn, it looks as though Sam Mendes will return as the director of Bond 24 and 25.
Milla Jovovich is said to be in talks to join the cast of The Expendables 3.  Wesley Snipes, Jackie Chan, and Nicolas Cage are also expected to appear in the film.
James Bobin (The Muppets) is being looked at to direct Alice In Wonderland 2.
Whoopi Goldberg is all set to play April O'Neil's boss in the Michael Bay-produced Teenage Mutant Ninja Turtles.
Duncan Jones (Source Code) says he expects to start shooting his World Of Warcraft movie at the beginning of 2014.
Paul Thomas Anderson has selected newcomer Katherine Watson as the female lead in Inherent Vice.  The cast already includes Joaquin Phoenix, Josh Brolin, Benicio Del Toro, Reese Witherspoon, Sean Penn, Jena Malone, and Martin Short.
Eric Roberts (The Dark Knight) has landed a role in Tom Six's The Human Centipede III (Final Sequence).
Joachim Ronning and Espen Sandberg (Kon-Tiki) are set to direct Pirates Of The Caribbean 5.
Johnny Depp has reportedly dropped out of the Whitey Bulger biopic Black Mass due to salary issues.
Broken Road has optioned the likeness of Grumpy Cat, and it's expected that it will be used in a movie of some sort.
Henry Cavill (Man Of Steel) is in talks to replace Tom Cruise as the lead in Man From U.N.C.L.E.
This Week's Notable Trailers