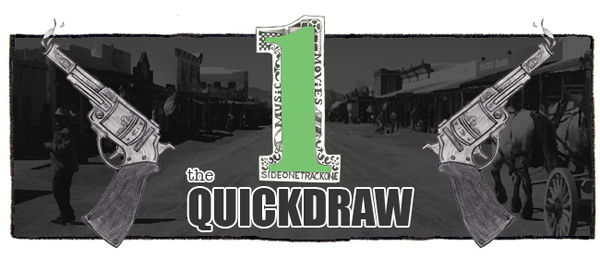 SXSW began on Friday, and my original plan was to just put the site on break until it came to an end.   Over the weekend, though, I realized this idea was no fun for those of you not attending the festival, so here's 10 tracks to listen to while we're away.  Enjoy.
:The Appleseed Cast – Great Lake Derelict:  The Appleseed Cast are responsible for Low Level Owl, one of my favorite albums of all time, and because of that I'll always be in their corner.  With that being said, I do legitimately dig this track.  The band will release Illumination Ritual on April 23 via Graveface Records.
:The Laughing – Disappear:  Here's an Austin act that I've really started to pay attention to over the last six months or so.  They've got a big, layered pop sound that's just hooky enough.  The Laughing are set to self release Oscillation at some point during the summer.
:She And Him  – Never Wanted Your Love:  Is anyone else surprised that this duo will be releasing their third full length?  I really thought it was just a "side" thing for the two of them.  In any case, this is another pleasant retro pop tune on their already high pile of pleasant retro pop tunes.  Volume 3 is due May 3 via Merge.
:Fol Chen – IOU:  The first song to be released off of Fol Chen's new album was a fairly experimental effort that was far from being easily accessible, so I'm happy that this second track is a lot lighter.  You're going to like it.  The False Alarms is due out March 19 via Asthmatic Kitty.
:Action Bronson – Morey Boogie Boards:  Producer Harry Fraud recently assembled a new mixtape, and this classy Action Bronson track is meant to convince us all to check it out.  I'm certainly in.  Join me, friends.  You can rumble around online and get Adrift now.
:Big Deal – In Your Car:  I really love that this duo continue to show that their next album isn't going to have the sort of sound that makes you want to sit in a dark room by yourself.  Keep it loud, Big Deal.  June Gloom is expected out June 4 via Mute.
:Thee Oh Sees – Toe Cutter – Thumb Buster:  A week without a new track from Thee Oh Sees would be weird, so here it is.  Personally, I think it's one of their more playful efforts.  I recommend a high volume.  Floating Coffin is due out April 16 via Castle Face Records.
:Wax Idols – When It Happens:  Can you believe this band is from Oakland?  Listening to this pop tune (that carries a far from sunny sound), I would have certainly guessed the UK.  How odd.  The mighty Slumberland Records will release Discipline & Desire on March 26.
:St Lucia – Before The Dive (Chvrches Remix):  I think we're almost at that point where anything to do with Chvrches is a guaranteed win.  I mean, just listen to how they really make this electro-pop number bounce.
:Austra – Home:  A number of weeks back I saw this electronic-enthused band open for the XX, and I thought their set had some great moments.  I'm definitely looking forward to their sophomore LP.  Olympia is due June 18 via Domino.