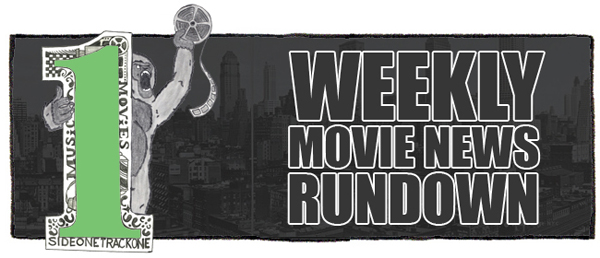 Time for your weekly movie news update!  Below you'll find a slew of sentences meant to provide a brief glimpse of what's been going on over the past week in movieland.  If something leaves you desperate for more info, then my advice is to do a little extra research on one or all of the following fantastic sites:  Latino Review, Dark Horizons, Ain't It Cool News, CHUD and/or JoBlo.  Read on!
Greg Kinnear and Josh Lawson (The Campaign) have joined the cast for Anchorman 2: The Legend Continues.
Chinese actress Fan Bingbing has reportedly landed the role of Blink, a mutant with teleporting powers, in X-Men: Days Of Future Past.
Christian Bale may star in Exodus for Fox.  The movie is based on Moses.
Tom Hooper (Les Miserables) may direct Sacha Baron Cohen in a Freddie Mercury biopic.
Seth Gordon (Horrible Bosses) will direct Charlie Day and Jason Sudeikis in One Night On The Hudson.  It's said to be a buddy cop film.
Colin Trevorrow (Safety Not Guaranteed) will reportedly direct Jurassic Park 4.
Robert Duvall has signed on for a role in The Judge.  Robert Downey Jr. is already set to star in the film about a man trying to find out who is responsible for the death of his mother.
Because of scheduling issues, Michael Fassbender has dropped out of the western Jane Got A Gun.  Joel Edgerton (Warrior), who was to star opposite Fassbender, has now taken the lead role, and Jude Law has landed Edgerton's spot.
Emma Waston has reportedly turned down the opportunity to star in Disney's Cinderella remake.
Ang Lee might direct Gods And Kings.  Steven Spielberg recently left the film, which is said to be about Moses.
WWE's Dave Bautista has landed the role of Drax The Destroyer in Guardians Of The Galaxy.
Melissa McCarthy and Bill Murray will star in St. Vincent De Van Nuys, which is said to be about a single mom trying to undo the poor mentoring that her son received from their crotchety neighbor.
Kate Beckinsale is close to signing on to star in Eliza Graves for Brad Anderson (The Machinist).  The movie is said to be centered around a mental institution where the inmates are posing as doctors.
This Week's Notable Trailers