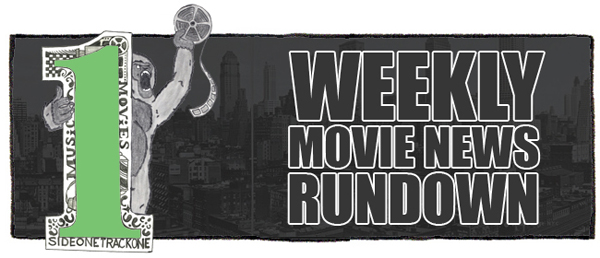 Time for your weekly movie news update!  Below you'll find a slew of sentences meant to provide a brief glimpse of what's been going on over the past week in movieland.  If something leaves you desperate for more info, then my advice is to do a little extra research on one or all of the following fantastic sites:  Latino Review, Dark Horizons, Ain't It Cool News, CHUD and/or JoBlo.  Read on!
Emily VanCamp (Revenge) has been cast as Sharon Carter in Captain America: The Winter Soldier.
Due to money issues, Daniel Craig may be written out of the Girl With The Dragon Tattoo sequel.
Kenneth Branagh may replace Mark Romanek as the director of Disney's live action version of Cinderella.
Sam Worthington is set to star in For The Dogs.  It's said to be about an assassin who helps a college girl seek revenge.
Duncan Jones is set to direct the World Of Warcraft movie.  It will be out in 2015.
Warner Bros. has reportedly cleared an Entourage movie.  The cast is expected to return.
Julia Garner (Martha Marcy May Marlene) and Eva Green (Casino Royale) have joined the cast of Sin City: A Dame To Die For.
Gore Verbinski will direct Pynongyang for New Regency.    The graphic novel is based on Guy Delisle's trip to North Korea in 2001.
Disney's 1952 has been given the official title of Tomorrowland.  Brad Bird is directing.
X-Men: Days Of Future Past will take place in 1973 and feature Sentinels.
The Raid 2 has begin production.
Johnny Depp will star in Black Mass, which is about the famous Boston criminal Whitey Bulger.
Guillermo Del Toro's stop-motion Pinocchio movie has been shelved.
Colin Farrell and Jessica Chastain will star in Miss Julie.  The book was written in 1888 by August Strindberg.
The next Muppets movie now has the title of The Muppets … Again!.
Paul Giamatti is reportedly set to play the Rhino in The Amazing Spider-Man 2.
Denzel Washington may direct an adaptation of the play Fences.  It's said to be about a sanitation employee who once dreamed of being a baseball player.
Jeremy Renner will star in Kill The Messenger, which is centered around Gary Webb, who committed suicide after being denounced for exposing the CIA's dealings with Nicaragua rebels.
Charlize Theron is close to starring opposite of Seth MacFarlane in A Million Ways To Die In The West.  The movie is said to be about a farmer who chickens out of a gunfight.
This Week's Notable Trailers