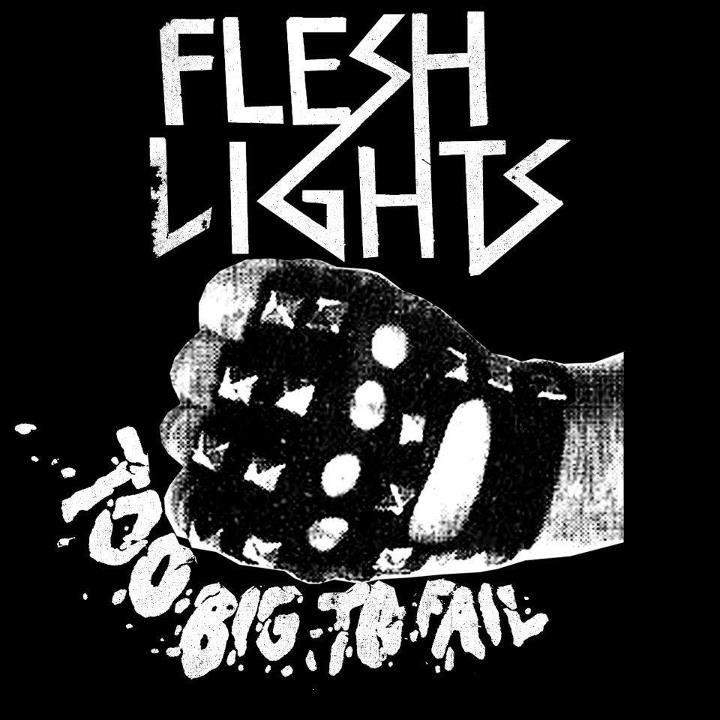 I was recently scanning upcoming shows around town when I spied tonight's lineup at Beerland:
The Flesh Lights, Wymyns Prysyn, Crisis Hotlines, Ghetto Ghouls
Then it hit me that I've been loving on The Flesh Lights for a while, but I've never actually posted about them. This ends today!
The first time I saw the Flesh Lights live, they were playing halftime at a roller derby bout. I love me some banked track action, but the halftime show was the clear highlight that night. The band featured hyped up vocals over wailing guitar distortions and heavily caffeinated bass and drums. The songs kicked in like a needle of adrenaline straight to the chest, Pulp Fiction-style.
When a band names themselves after a popular male sex toy (if you don't know what a Fleshlight is, look it up), you're not too surprised when they specialize in garagey-punk with perverse lyrics. The band formed a few years ago and last year they released Muscle Pop. The LP, which consists of twelve scuzzy garage-punk tunes, is certainly appropriately titled. It's packs a strong punch, but also delivers great hooks that'll have you singing along as you body slam your roommate through the wall. The hooks are delivered Ramones styles – short, super-fast, and really infectious. While that combo makes for terrible sex, it makes for great trashy punk rock.
The band's great chemistry and hi-energy live shows landed them the opening slot on The Hives' recent tour of the US. It was a chance for them to play some famous venues across the US and to increase their exposure. If you haven't listen to Muscle Pop or seen the band live yet, I encourage you to get your ass to Beerland tonight!
:The Flesh Lights – Crush On You:
:The Flesh Lights – I'm A Monk:
:The Flesh Lights – My Precious Time:
:The Flesh Lights – Too Big To Fail: