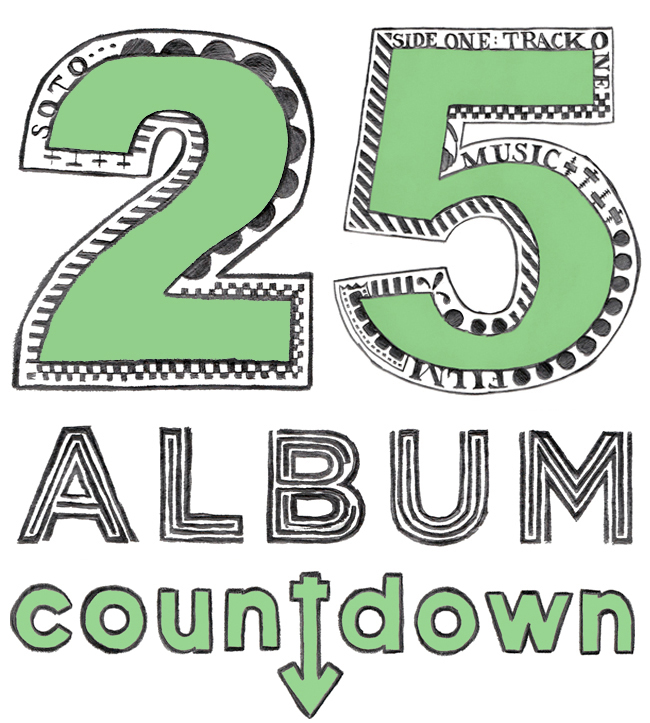 Here are the albums I listened to the most this year.  Enjoy.
25) Alvvays – Antisocialites
Antisocialites is a catchy, occasionally infectious collection of tunes from Alvvays.  Definitely a worthy follow-up to their self titled debut.
24) Julien Baker – Turn Out The Lights
Julien Baker's Turn Out The Lights isn't exactly an easy listen, but it's worth the effort.
23) Wolf Parade – Cry Cry Cry
Cry Cry Cry might be my favorite Wolf Parade album.
22) Growl – Won't You
Austin's own Growl really hit a home run with the indie pop-leaning Won't You.
21) Alex Lahey – I Love You Like A Brother
Alex Lahey is an anthem-making machine.
20) Molly Burch – Please Be Mine
Please Be Mine is proof that Molly Burch is one of Austin's best artists.
19) The Courtneys – The Courtneys II
The Courtneys sophomore effort has a whole slew of very catchy tracks.
18) SZA – Ctrl
SZA's Ctrl is one of the best R&B albums I've heard in a long time.
17) White Reaper – The World's Best American Band
White Reaper always rip it up.  The World's Best American Band is their most complete effort to date.
16) Taylor Swift – Reputation
Reputation is no 1989, but it is a super solid effort.  Few have hooks like Taylor Swift.
15) LCD Soundsystem – American Dream
American Dream is a really nice comeback album for LCD Soundsystem.
14) Walker Lukens – Tell It To The Judge
The Jim Eno-produced Tell It To The Judge is one of my favorite albums to come out of Austin in 2017.  Nicely done, Walker Lukens.
13) The xx – I See You
Admittedly, I wasn't a big fan of The xx's I See You when I first heard it, but I came around (real hard) after experiencing the songs live.
12) Mount Eerie – A Crow Looked At Me
Mount Eerie's A Crow Looked At Me is a devastating album.  I can't even believe I listened to it as much as I did this year.  Guess that just goes to show how well done it is.
11) Hazel English – Just Give In/Never Going Home
I got lost in Hazel English's hazy Just Give In/Never Going Home quite a lot in 2017.
10) Japanese Breakfast – Soft Sounds From Another Planet
Soft Sounds From Another Planet is so fantastic that it has made me a Japanese Breakfast fan forever.
09) Spoon – Hot Thoughts
Hot Thoughts is Spoon not giving a whole lot of fucks, and I like it alot.
08) Jay Som – Everybody Works
I don't do any sort of "best new artist" award here at SOTO, but if I did it would go to Jay Som for the excellent Everybody Works.
07) Gang Of Youths – Go Farther In Lightness
I just recently (maybe a month ago) got into Gang Of Youths' Go Farther In The Lightness, but it's had such an big impact on me that I had to give it a high spot on this list.  Just amazing stuff.
06) Waxahatchee – Out In The Storm
If I were sorting this list by number of play-throughs, Waxahatchee's Out In The Storm would probably land in the top spot.  It's such a great indie rock album.
05) St. Vincent – Masseducation
Somehow Masseducation is simultaneously St. Vincent's weirdest and most accessible album.  I love it.
04) The War On Drugs – A Deeper Understanding
The War On Drugs just keep getting better and better.  A Deeper Understanding is a real attention-grabber.
03) Protomartyr – Relatives In Descent
Protomartyr dialed back the intensity just a bit for Relatives In Descent, and it resulted in an album that I have yet to get enough of.
02) Kendrick Lamar – DAMN.
Come on.  It's Kendrick Lamar.  This guy is currently unstoppable.
01) The National – Sleep Well Beast
I've always liked, not loved The National, so it's wild to me that their Sleep Well Beast ended up being my favorite album of 2017.  Here I am though, declaring all my love for it.  If you haven't spent any time with it, be sure you fix that real fast.  It's one of those efforts that just swallows you up whole.
For the heck of it, here are five albums that almost made my Top 25.
Bully – Losing
Conor Oberst – Salutations
Do Make Say Think – Stubborn Persistent Illusions
Jay-Z – 4:44
Why? – Moh Lhean