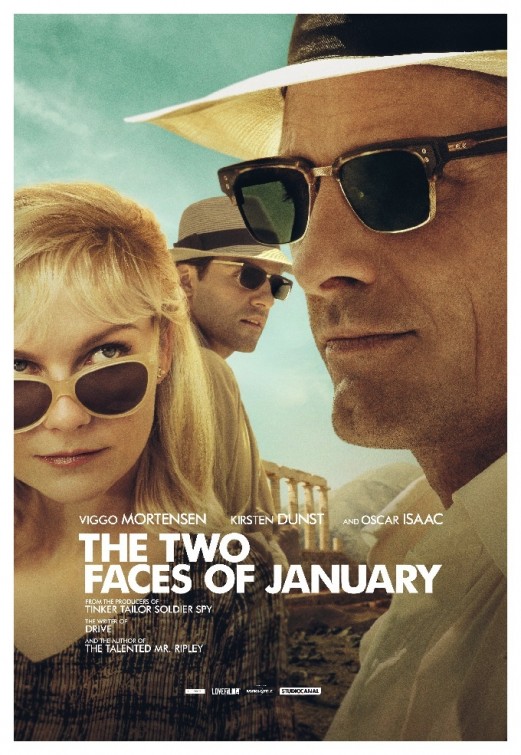 People are doing traditional-style reviews all over the web, so we decided to try something different.  In each "breakdown" we'll take a look at what a film's marketing led us to believe, how the movie actually played, and then what we learned from it all.  Read on!
The Impression:
Hossein Amini has written both great movies (Drive) and terrible movies (Snow White and The Huntsman). This, his debut feature, has a great cast (Viggo Mortenson, the very up-and-coming Oscar Isaac, and Kirsten Dunst) and the possibility of being pretty fantastic.
The Reality:
The Two Faces of January is like the Patricia Highsmith novel you've never read. Deeply steeped in the most traditional of moody, noir filmmaking, Amini and company crank out a seedy, desperate bit of filmmaking that creates tension through the fickle flaws of its cast of characters and the incredibly way Amini's script works to turn the viewers expectations on their heads. What starts as, well at least how you might believe it starts as, a film about a young conman (Oscar Isaac) entrenching himself into the lives of a wealthy American couple traveling in Rome (Viggo Mortenson and Kirsten Dunst) quickly turns into a crime cover-up story as Mortenson's character begins to show who he really is. That's not it though, on the run from the law, the film swaps intentions again, and Mortenson's jealousy-wracked entrepreneur becomes the villain of the piece, with Isaac's young, damaged conman a pawn in his shifty eyed plan. And that, is really just the beginning. As good as Dunst and Isaac are in the film, and they're great, this is Mortenson's movie. His Chester Macfarland is a character broken apart by his own internal demons. Jealous, corrupt, and trying to find his way to the surface, Mortenson exposes every twinge of emotional suffering on his sweaty face. Where we've come to know the actor for his more stoic roles, here Mortenson shows off another shade of his acting abilities – the damaged leading man. He's charming and uses his perceived normalcy as a way to hide what's really going on, and his presence on screen electrifies this film. Amini's inaugural feature is assured, a truly classic bit of filmmaking unswayed by the typical pomp and circumstance of Hollywood today.
The Lesson:
Look who's back, Viggo's back.