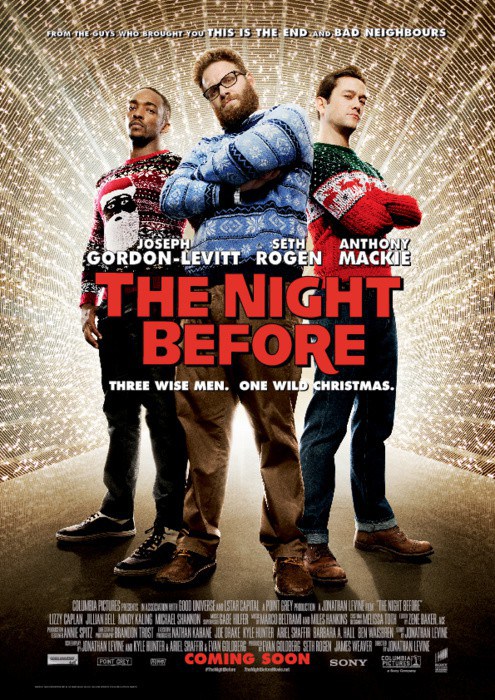 The Impression:
Anything that comes out of the Seth Rogen/Evan Goldberg camp is something I'm excited for. A Christmas film soaked in weed smoke and debauchery? Even more so.
The Reality:
It's rare that Christmas movies these days aren't cloying pieces of familial pap, overly soaked in emotion, lessons learned and comedy better suited for a nursing home. The Night Before has remedied that problem, combining the crass, drug-fueled humor we've come to love from the disciples of Judd Apatow with an honest-to-God, ghosts of Christmas Past and everything else in the Holiday Movie trope treasure chest. Seth Rogen and company aren't trying to make a film that spoofs Christmas movies, they're trying, in their own special, dick-joke loving way, to express their clearly deep set love for the genre. The film finds three old friends – Ethan (Joseph Gordon-Levitt), Isaac (Seth Rogen) and Chris (Anthony Mackie) – fulfilling one final year of their night long Christmas Eve booze binge in honor of the death of Ethan's parents 14 years ago. 14 years is a long time though, and each and all of them have started to slowly move away as the responsibilities of life start to press down on them. When Ethan steals tickets to the Nutcracker Ball, a party the trio have been looking to get access to for the last 10 years, their final evening of holiday debauchery turns into a madcap adventure, each of the three men having to face up to who they are, and what their friendship has become. I don't know if a more likable group of gentlemen exists in Hollywood these days, and with their scruffy charm fully in place, director Jonathan Levine is able, and willing, to surround the sincerely emotional moments the film has in spades, with the type of humor you've seen in very few Christmas films up to now. Seth Rogen is at his very best here as Isaac, a soon-to-be dad who decides to go out on a drug-binge. The character is perpetually fucked-up, a bundle of Rogenesque anxieties spiked to the very extremes, and Rogen manages to do it without ever coming across as annoying. The real star of the film is Mr. Green (Michael Shannon) as a Yoda-like pot dealer that slowly draws the characters from one point to the next, always with a puff of chronic to keep them rolling. At times the film rambles and occasionally plateaus, but in the end it doesn't really matter, it has heart (and dick pics) and a cast able to put that heart on screen without coming across as sappy schmucks.
The Lesson:
Make more movies Mr. Rogen, I will watch them.