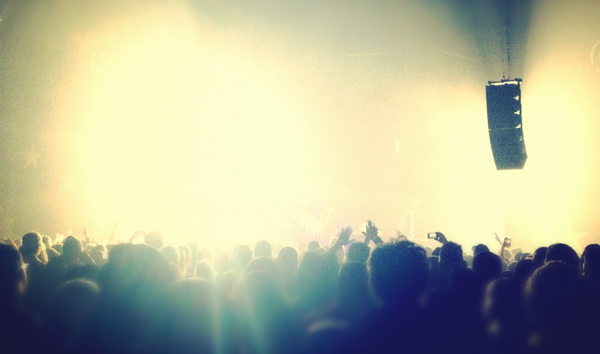 Free Week in Austin may be over, but there's no rest for the wicked as there are several great local shows coming up this month. This Friday at Frank there is the killer triple bill of Gentlemen Rogues, Moonlight Towers, and Excited States. This will be an evening of loud, ringing guitars with plenty of hooks and melody.  I've been a longtime fan of Gentlemen Rogues and Moonlight Towers, but in the past year I became a fan of local trio, Excited States. There's no finished album just yet but they recently posted a couple of tunes on their Soundcloud page, and they're chock full of tasty power pop goodness. Their gigs are infrequent so I encourage you to check them out this weekend at Frank. They open the show at 10pm followed by Moonlight Towers and then Gentlemen Rogues.
A few of my local favorites have month-long residencies worth checking out. Sabrina Ellis from Bobby Jealousy is a very busy woman this month with the Home Church Monday night residency with Bobby Jealousy and special guests at Hotel Vegas, and then Sabrina's Foxy Nights, which is a solo residency (with special guests) on Wednesday nights at The Fox Tavern. Bobby Jealousy's Free Week show last Friday at The Mohawk was such a blast, I'd love to see them again one of these January Mondays. If you prefer a mellower, more intimate atmosphere, I suggest going to one of solo shows at The Fox Tavern. If you missed out on his monthilong residency last August at The Parish, you have another chance to see Shakey Graves (the moniker of songwriter, Alejandro Rose-Garcia) every Wednesday night this month at The Parish. Word of mouth is spreading across the globe about him, so don't miss your opportunity to see him in Austin for free at one of the best sounding venues in town. Doors open at 8pm; there are different special guests each week that open the show before Shakey takes the stage. He has some serious guitar picking skills and a charismatic yet easygoing stage presence.
Wednesday night seems to be popular night to host a residency. The Sweet Nuthin' have put together A Very January Residency at Hole in the Wall. This fun, hard rockin' quartet (plus special guests every week) will be celebrating January humpdays from 10pm-midnight. Tonight should be a rollicking good time as they are joined by their friend, Nic Armstrong. The Sweet Nuthin will be doing double duty – playing their own tunes and as members of Nic's band, The Thieves. In addition to these monthly residencies, I also wanted to mention a couple of other special shows. Local symphonic pop ensemble, Linen Closet, is re-releasing their Bright Wing EP. The songs have been remixed and the EP is finding new life on cassette through the Accrue Cassettes label. This special show will be held on Sat Jan 19th at Central Presbyterian Church and feature an expanded lineup. Their performance at CPC last August was extraordinary – a perfect marriage of the band's sound and setting. I'm looking forward to hearing their orchestral, melodic swirls fill the entire church once again.
Last but not least, a couple of local favorites will be launching their winter tour adventures. On Tuesday, January 22, local indie pop quartet, Tiger Waves, will be kicking off a Jan/Feb US tour at the Mohawk. Their surf and psychedelia influenced sound has been growing on me since I first saw them a year ago. Their Don't Be Yourself EP and more are available to stream and download on Bandcamp. I especially love the Beach Boys meets Real Estate vibe on their Weekends single. I encourage you to give them a warm sendoff – they're playing late after the sold out Purity Ring show with local dream pop quintet, Black Books. Touring is expensive so if you would like to help them out, you can do that on their Kickstarter page and/or purchase merchandise at their upcoming gigs. Prog pop band, The Eastern Sea, started their winter tour with The Kopecky Family Band on Monday and they'll be returning to Austin on Saturday, January 19 to play at The Parish before going back on the road. They were one of my favorite highlights from Austin City Limits Festival 2012 (and released one of my favorite albums, Plague, of last year), and I highly recommend hearing them at the Parish.