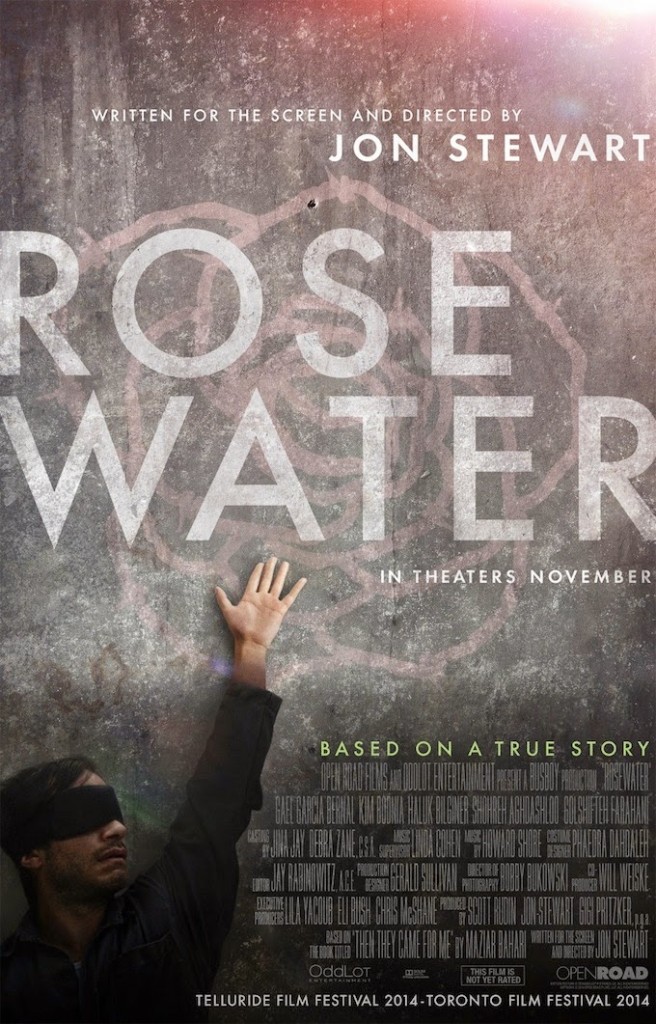 The Impression:
In almost any case, if Jon Stewart is somehow involved, I am one hundred percent sold on whatever it is he might be involved in. Toss in a healthy dose of Gael Garcia Bernal (a woefully absent actor as of late) and I should be up to my ears in excitement. But for some reason … I'm not.
The Reality:
As my girlfriend has said, countless times, since we saw Rosewater, "this is the type of film that needs to be made." And I'm going to wholeheartedly agree with that. Jon Stewart has made a very, approachable, touching, funny film that, in a very traditionally Jon Stewart way, deals with one pocket of the world's ignorance and how it directly effects one man and his family. Rosewater tells the true story of Newsweek correspondent Maziar Bahari, arrested for filming the beginnings of a revolution in Iran in the wake of a corrupt election, and imprisoned for, well, a very long time. This is the story, for the most part, of Bahari's time with his Special Interrogator, a man he would name Rosewater (though the movie never really tells us this) and the way Bahari's intelligence trumps the curtain of stupid that has fallen over Iran. Bernal is his very pleasant self, imbuing the character of Bahari with a gentle sense of humor to bring his massive intelligence down to Earth. The real standout of the film though is Kim Bodina, the previously unknown to me actor who plays Rosewater. He's at once likable, despicable, thoughtful, and completely consumed by his need to be a part of the Iranian State and to please those who rule above him. It's a wonderful performance and one I can't imagine won't get a nod come Oscar-time. And now, I know, I've lauded the film with compliments, but to be honest, Rosewater is a pretty, well, fair movie. Stewart is most certainly a first time director and not one with a very firm grasp on either aesthetic style (the film bounces back and forth between a glossy perfume ad, the b-roll of No Reservations and PBS reenactment) or consistent tone. Yeah, sure, he's able to tell the story and to stand back and let his actors act, but he doesn't do so with much of a vision or goal. The scenes with Bernal and Bodina are stellar, but the rest of the film, thematically and narratively never seems to find its foothold or its path. It meanders aimlessly, in the most pleasant of ways, but when Stewart decides to call it a day, I can't say I know what it was Bahari learned or what about him changed. He simply soldiered through a relatively terrible experience, highlighted the idiocy of some worse than average men, and then entered back into the world, to continue his quest to expose just that. Maybe I'm missing something or maybe Stewart didn't hit his speaking points that well, but, for a movie that "needs to be made" it feels a lot fluffier than need be.
The Lesson:
I'm willing to give Jon Stewart another crack at this whole film directing thing.