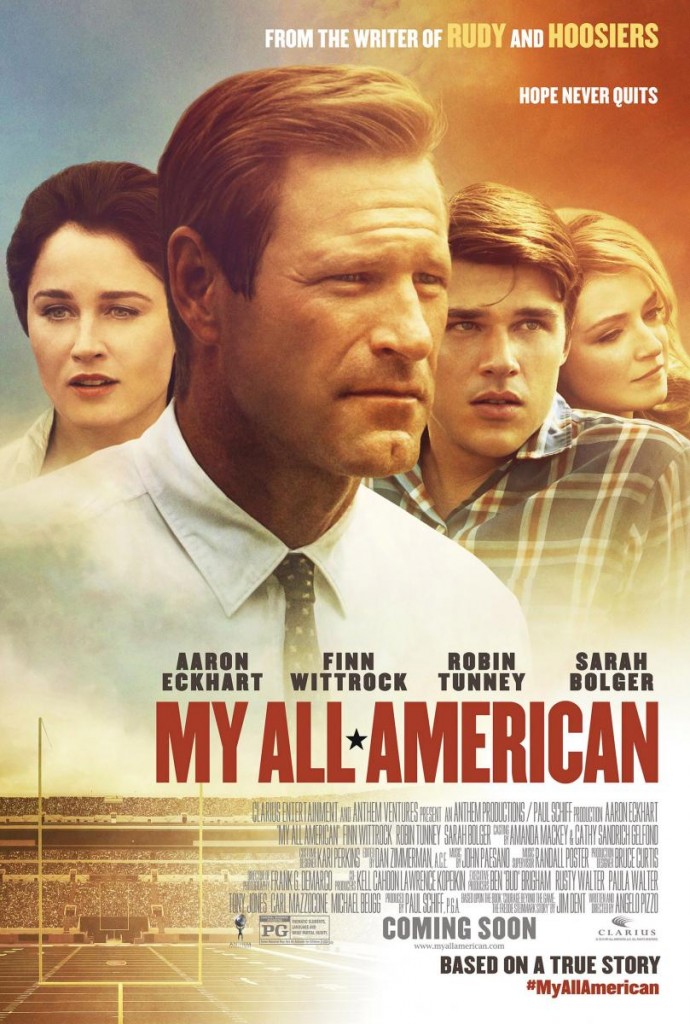 The Impression:
Alright, so the guy who wrote sports classics Rudy and Hoosiers has now written a new, hopefully sports classic, and also stepped behind the director's chair. I think both Rudy and Hoosiers are just, well, okay, so this one doesn't really tickle my excitement bone.
The Reality:
So in most sports films, you take a team or a player and shackle them with some sort of contrived disability or handicap (one eye, black lung, chronic fatigue syndrome – you know, that kind of stuff) and then the entire film is about them overcoming that disability. In this film, director Angelo Pizzo picks a real life athlete, revered University of Texas safety, Freddie Steinmark, who has to overcome … his height. No seriously, Steinmark is an exceptional athlete in every way possible, he's just really short. People make fun of him because he's short and football is a tall guy sport (even though we've seen tons of short quarterbacks play perfectly acceptable professional football). Beyond that though, Freddie Steinmark is a great football player. He's dedicated and athletic and can crush people twice his size and even though a few schools aren't interested in his Liliputian frame, he eventually gets drafted by football juggernaut UT. He has nothing to overcome in this film. Even in college, where the players are EVEN BIGGER, he's a total baller. He helps lead the entire team to a nearly undefeated season, shearing people in half with vicious tackles and LEADING THE LEAGUE in interceptions. He's a good athlete on a great football team with an even better coach. This is like if Angelo Pizzo decided to focus his camera on the New England Patriots and made Tom Brady's crippling good looks the main thing he had to get past. Okay, sure, at the end of the film Freddie Steinmark has to face up to a few more serious problems, but by this point, his team has done everything you want from a team and it just feels like bizarro scraps left till the end so Pizzo could wring a few more tears out of his audience. The film isn't altogether bad, Finn Wittrock's Freddie Steinmark is a bastion of all things good in the world, continuing to persevere through the most crushing of, well, things. Every stupid, horrible line you've ever heard a coach in a Hollywood sports film bark at his athletes is crammed into the mouth of Aaron Eckhart (here playing legendary University of Texas Longhorns coach Darrell Royal) and he then spits it back out at his team of players. But none of it really matters. Aside from the dark turn the film takes for literally five minutes near the end, this is a sports film without any of the necessary obstacles to overcome. No one wants a movie about an undefeated team. Why? Because it's boring. I'll take Necessary Roughness any day over this.
The Lesson:
Dear Angelo Pizzo, please stop putting your weird Christian notions about "plans" into your football movies. Thank you.