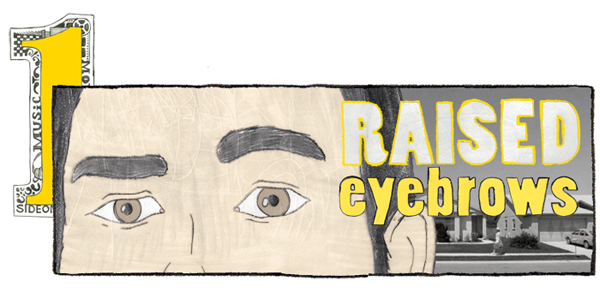 Jeff Tweedy is the leader of Wilco, the biggest Americana band on the planet. His life in music thus far has been an audacious one. From The Plebes to The Primitives to Uncle Tupelo to Wilco to Loose Fur, Tweedy has played a number of musical roles including second fiddle (Uncle Tupelo), prophet (Yankee Hotel Foxtrot), co-conspirator (Loose Fur) and elder statesmen (Wilco). Though Wilco continues to be Tweedy's main concern, his recording career outside of the band can be a mixture of rewards and challenges to those looking to find shelter in the house of Tweedy.
After reading an article entitled The 15 Best (Non-Wilco) Jeff Tweedy Songs posted by Consequence of Sound on 3/22/13, Raised Eyebrows quickly made its own list and found nothing in common with the CoS article. Let it be stated here that this response is meant (just like the original article) for readers to start their own conversations, make their own lists, and write their own pieces. There is no malice meant for Consequence of Sound or the writer of the article. Now with that being said, to these ears most of the cuts on the original CoS list are glorified Wilco songs. So … Raised Eyebrows has taken it upon itself to dig a little deeper to bring you a guide to the more adventurous side of Tweedy's musical career with tracks that feature traces of Chicago experimentalism, songs that echo what would later become Wilco's signature sound, and of course, Tweedy's neoteric guitar style.
15. The Minus 5 – The Old Plantation (Down With Wilco, 2003 Yep Roc)
While this tune has it's Yankee Foxtrot Hotel issues, the chorus (with Tweedy on backing vocals) never fails to win the listener over. It's a number that showcases the lyrical gags of McCaughey (also of The Young Fresh Fellows) without his Achilles heel of losing sight of the hook in another well penned pop song.
—
14. Uncle Tupelo – We've Been Had (Anodyne, 1993 Sire)
This song should be the first piece of evidence shown to the jury in the infamous case of Farrar vs. Tweedy. It's where Tweedy starts venturing into his own lyrical territory, see: "There's no call waiting in my headphones."  This essentially gives us a preview of what is to come on Wilco's first album, A.M.
—
13. Golden Smog – Pecan Pie (Down By The Old Mainstream, 1995 Rykodisc)
Pecan Pie is another shot of what was to come with Wilco on later songs like King Pin. Rather than sounding like a leftover this song hits you with some sense of familiarity, like when Pete Seeger comes out and leads all the children in a folk song that they somehow know all the words to.
—
12. 7 Worlds Collide – All Comedians Suffer (The Sun Came Out, 2009 Columbia/EMI)
This song was written by Neil Finn of Crowded House/Split Enz for the 7 Worlds Collide project that benefited OxFam. The track was incidentally produced by Wilco conspirator Jim Scott and despite the tracks likeness in sound to modern christian rock, Tweedy rips an inspired solo. For those looking for some A Ghost Is Born vibes, look no further.
Also See: Girl, Make Your Own Mind Up by Don McGlashan (from The Sun Came Up)
—
11. Deerhoof – Behold Jeff Tweedy In The Darkness (Bandcamp 2011)
Here we find Tweedy with San Francisco's gift to the world, Deerhoof. The collaboration is a good mix of the Wilco song Radio Cure and Deerhoof's excellent album, The Runners Four.
—
10. Boxhead Ensemble – Two Brothers (Two Brothers, 2001 Atavistic)
Michael Krassner, composer and leader of Boxhead Ensemble, is joined here by a collective of musicians including members of The Dirty Three along with Wilco's Kotche and Tweedy. Tweedy finds his inner Sharrock skronk on this extended cinematic piece.
Check out the song here.
—
9. Nikki Sudden – Farewell My Darling (Red Brocade, 1998 Chatterbox)
Those of you who know of Nikki Sudden, know this a strange pairing. The strangest part about it is that Sudden (who mostly has the singing voice of a feral cat) unexpectedly shines while Tweedy plays catch up through most of the cut. Despite the odd pairing, the track stands as testament to Tweedy's varied tastes and the acquaintances he has made over the years.
Also See: Tweedy's guest appearance on power pop idol Tommy Keene's album, Isolation Party
—
8. The Autumn Defense – Silence (Circles, 2003 Arena Rock Recording Co.)
Jon Stirratt and Pat Sansone, both current members of Wilco, have a soft rock/power pop side project called The Autumn Defense. This particular tune is a beaut showing more of Tweedy's restraint than the guitar attack he has become somewhat known for.
—
7. Jeff Tweedy – Crack A Smile (Down In A Mirror: A Second Tribute To Jandek, 2005 Summersteps Records)
If you have ever wondered what a Tweedy solo album might sound like, this tribute to Houston's own elusive Jandek might give you an idea. Here we have single coil strums, layered vocals, and Spector drums tangling with noise and fake strings. Everything combines for something unexpectedly grand.
—
6. Loose Fur – An Ecumenical Matter (Born Again In The USA, 2006 Drag City)
Tweedy teams up a second time with Chicago experimental prince Jim O'Rourke and drummer Glenn Kotche on the group's second LP for Drag City, playing a tune that has a major parallax sound. The jam will remind you of Diamond Claw from The Wilco Book, containing an irregular but seasoned melody with hints of smooth jazz and math rock to boot.
—
5. Jeff Tweedy/Glenn Kotche – End Credits (Chelsea Walls Soundtrack, 2002 Rykodisc)
Tweedy and Kotche get together to score the 2002 film Chelsea Walls, directed by Ethan Hawke. Here Tweedy delves into Paris, Texas territory to thrilling effect. This particular piece is later scorched by Loose Fur, hidden on the Japanese version of their LP, Born Again In The USA, re-titled in the liner notes as Prelude to 110, 220, or Chelsea Walls.
Check out the song here.
—
4. Uncle Tupelo – Wait Up (March 16-20 1992, 1992 Rockville)
Produced by Peter Buck of R.E.M., Uncle Tupelo set out to make a record that was a reverse of the current trend of music in 1992. The result was UT's March album and here we have another prime example of a song that only Tweedy could present. The same throaty delivery would be found on Someone Else's Song and countless other Wilco favorites.
Check out the song here.
—
3. Loose Fur – You Were Wrong (Loose Fur, 2003 Drag City)
This one leans on the grump rock side of things, but it is a major jam nonetheless. The clang of a tremolo tailpiece paired with a solid bass groove and memorable hook make this one of Tweedy's lesser known triumphs.
—
2. Jim O'Rourke – All Downhill From Here (Insignificance, 2001 Drag City)
On one of O'Rourke's first collaborations with Kotche and Tweedy before Loose Fur and his third installment of records titled after Nicolas Roeg films, JO releases a fine pop record. Opening with a riff akin to ZZ Top's Going Down To Mexico, the trio push this O'Rourke song into the uncomfortable spotlight. Just push play already!
Check out the song here.
—
1. Uncle Tupelo – If That's Alright (Still Feel Gone, 1991 Rockville)
The quintessential track to represent the change in Tweedy's songwriting, going from the songs on the record you sat through to the best songs on the album and eventually becoming the voice of the post alt-country generation.