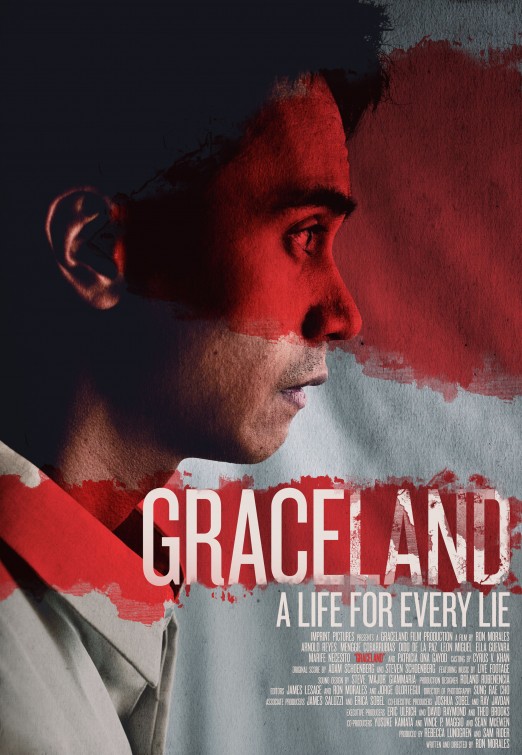 People are doing traditional-style reviews all over the web, so we decided to try something different.  In each "breakdown" we'll take a look at what a film's marketing lead us to believe, how the movie actually played, and then what we learned from it all.  Read on!
The Impression:
I haven't loved everything that Drafthouse Films has released, but I've been challenged and entertained and shocked and generally interested by bits and pieces of all of them. The trailer for Graceland, a Filipino thriller by Ron Morales, is darkly beautiful and a I love a good kidnapping film, so expectations are high for this gem.
The Reality:
Graceland is a taut, uncomfortable thriller, that loses itself in the final act. Marlon Villar (Arnold Reyes) is the driver for political figure Manuel Chango (Menggie Cobarrubias), a rich, corrupt man who has a penchant for girls, young ones. While driving Chango's daughter and her best friend (his own daughter) to school, a kidnapping occurs, someone dies, and because of circumstantial evidence, Marlon is pushed in to a precarious space between lies, truth, and just doing the right thing. For almost it's entire running time, Graceland is a well made thriller that very handily uses the dirty locational aspects of the Philippines to the utmost advantage. Marlon, without giving anything away, gets put in hot water pretty quick, and the rest of the film follows Marlon trying to save his own ass while keeping the pieces of the puzzle from falling down around him. At the same time director Ron Morales manages to make it a film about the seedier sides of the sex trade in the Philippines. There are no good or bad characters in this film, just people pushed to the limits by the terrible things we do as human beings. If the film was just that, just the story of Marlon Villar and a very bad bad situation, this would be a great film, but in the final moments Morales makes a decision that dispels almost everything that's come before it. It feels tacked on and in a damaging way, and it leaves what could a great little thriller, feeling empty and not thought out.
The Lesson:
If you have a great story with great characters, you don't need to fall prey to a big ending.
Graceland is out on VOD today.