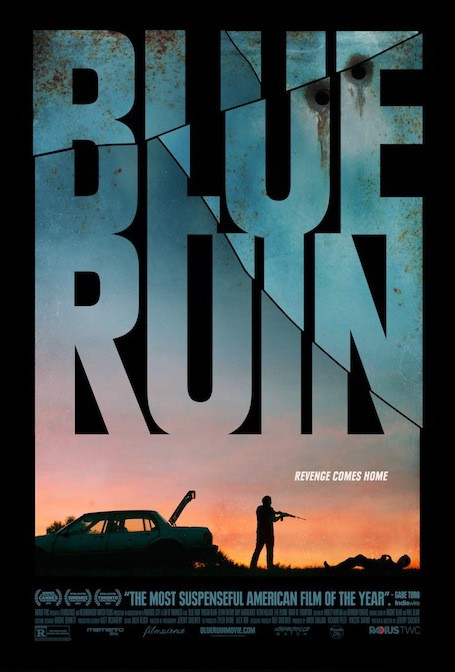 People are doing traditional-style reviews all over the web, so we decided to try something different.  In each "breakdown" we'll take a look at what a film's marketing lead us to believe, how the movie actually played, and then what we learned from it all.  Read on!
The Impression:
I've heard the Coen Bros. liked it, and you know, that's all I really need.
The Reality:
In the midst of the glitz, glamour, and CG-fueled explosions of the Hollywood Blockbuster season (if you can call an 8-month blitz a season) Blue Ruin is exactly the sort of film to remind the action-logged film goer just what a talented director can do with a strong lead man, a hefty dose of atmosphere, and the grim allure of violence gone wrong. Dwight (relative newcomer Macon Blair) is a hobo, a strange, quiet man who lives in his car, until he receives news from a friendly policewoman that the man who killed his parents has been freed from jail. Really, you don't want to know much more than that. Suddenly filled afresh with previously unknown vengeance, Dwight heads out to murder the man who killed his parents. What follows is a riveting, quiet, hour and a half of suspense, driven by the almost silent rage of Macon Blair's performance. Director Jeremy Saulnier crafts a film that showcases a man pushed to the edge by forces completely out of his control. More so, Saulnier makes the film about Dwight's brief reemergence into the world of humanity. A simple cup of tea at an old friend's parent's house is a moment of levity, almost hope for the scattered remains of Dwight's life. The death of his parents has pulled Dwight off the map, and only the singular goal of avenging their death can pull him back into the light. This is a great film, maybe the best I've seen all year, a chilling, true-to-life tale that never lets up. Keep an eye on Saulnier and Blair, there's big things to come from these guys.
The Lesson:
If I can just get one of these a week, I think I can survive a hundred Amazing Spider-Man 2s.