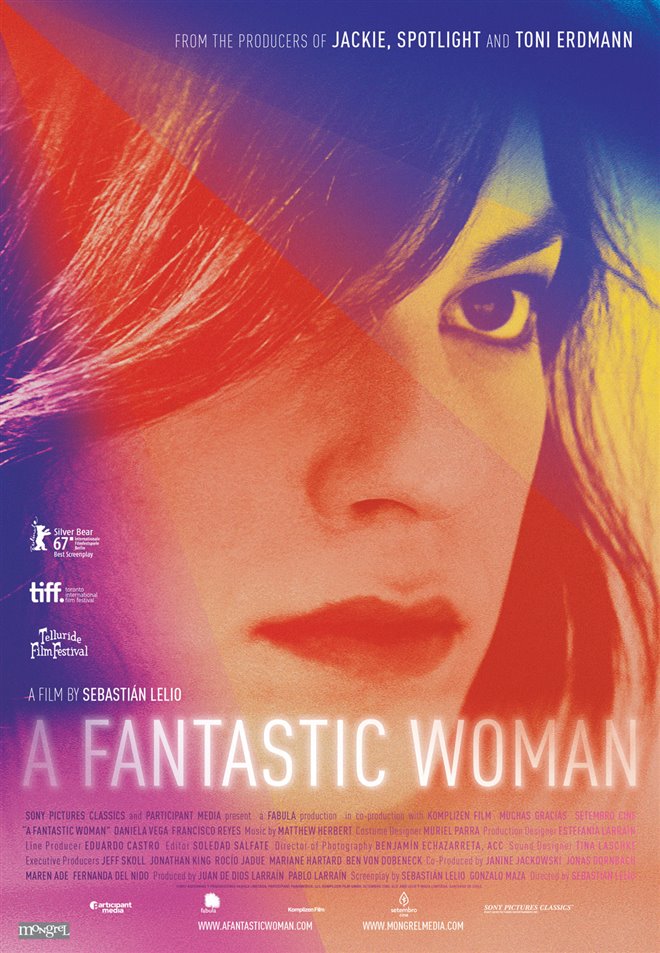 Pre-Screening Stance:
A Fantastic Woman is nominated for Best Foreign Film at this year's Academy Awards, so my guess is that it's going to be very good.
Post-Screening Ramble:
Considering that it's fairly well hidden throughout the first part of the movie, it feels like a spoiler to start this review by noting that the lead character, Marina (Daniela Vega), is a trans woman.  This tidbit is in every plot summary though, and it's part of the reason the film is being celebrated, so here we are.  I guess I like the idea of not mentioning it because, while it's certainly a big part of A Fantastic Woman, I think the film initially pulls you in without it.  The first act follows Marina as she deals with the sudden death of her lover, Orlando (Francisco Reyes), a successful, much older man who dies after suffering an aneurysm.  With their age difference being so vast and her having just moved into his apartment, Marina is immediately suspected of having something to do with his death.  In addition to this, Orlando's estranged ex-wife and son not only move fast to claim his car, apartment and more from Marina, but they forbid her from attending his wake and funeral. For the rest of the film, you watch as she fights for an opportunity to say goodbye to Orlando while also being shit on at every turn for being a trans woman.  As you've surely guessed by now, A Fantastic Woman is not an easy watch, but director Sebastian Lelio never lets things get too preachy or dramatic.  Instead he rides a very fine line between exploring the transphobia that surrounds Marina and dissecting the grief and loneliness that's been wrangled into her life by the loss of her partner.  Honestly, it's masterful work by Lelio, and you should see his rather compelling movie.
One Last Thought:
Francisco Reyes looks like he might be the long lost Chilean brother of Jeremy Irons and/or Scott Glenn.  Someone should make a movie that's centered around their shared likeness.