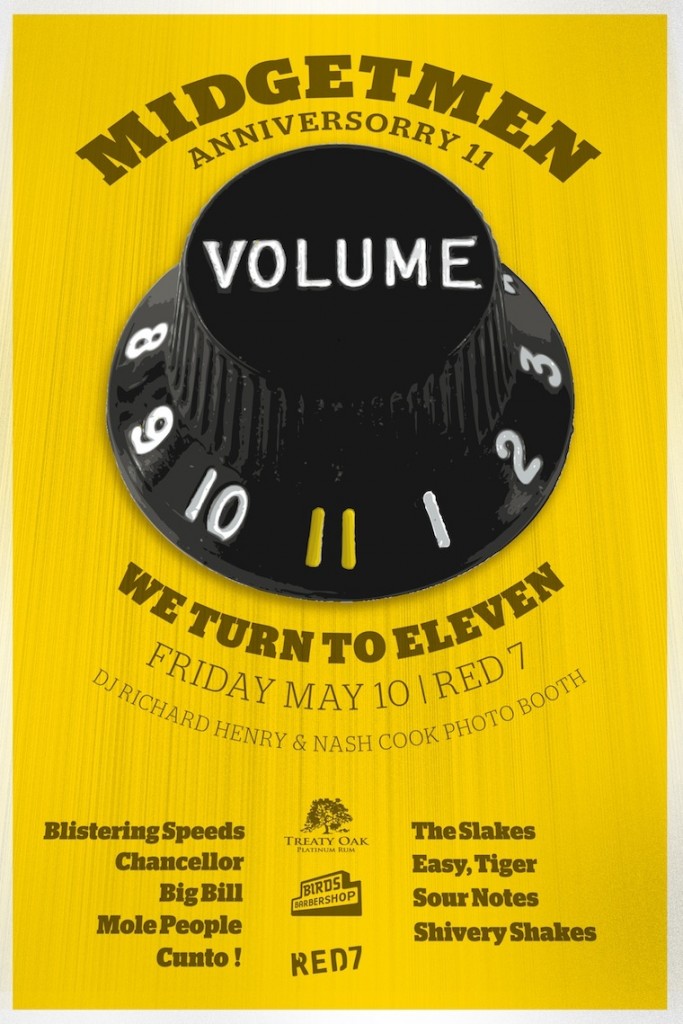 Every year the Midgetmen are allowed to throw a party in celebration of themselves.  We're not sure why, but it happens, and we're stuck in what's so obviously a vicious cycle until the band breaks up or we snuff out whoever they know in Austin that keeps giving them permission to do this thing.  It's ridiculous.
Anyway, since it's, like, happening or whatever, I told the Midgetmen I'd attend if they could provide me 11 barely compelling reasons to do so.  Surprisingly, they did.  So that backfired.  Shit.
11 Reasons To Attend The Midgetmen's 11th Anniversorry

1. There will be beer.
2. Jessica Alba's book signing at BookPeople is on Thursday, not Friday.
3. You, like the rest of the planet, missed the previous 11 years of shows.
4. You want to see the bands most likely to play the Austin/Bergstrom International Airport's bar circuit in 2014.
5. You're 15 months late too pick up your free Sony Playstation at Red 7.
6. Already saw "fun." and "Why?" and now need to see "Cunto!" and "Easy, Tiger" to win "Band Name Punctuation Bingo" challenge.
7. Red 7′s bathrooms are nicer than the Cedar Park Center bathrooms according to that homeless guy on Yelp.
8. You're a condo developer in search of something to tear down.
9. You work at Red 7 and have to be there to serve us beer.
10. You're an employee of SXSW and want to return the hundreds of dollars in application fees we've given you over the past 11 years.
11. You're all cried out over Lustre Pearl closing and need to find a new hangout ASAP.
—
Here's some fancy info for the thing.  I'll go if you go.
Inside Stage:
930-1000 The Slakes
1015-1045 Easy, Tiger
1100-1140 The Sour Notes
1155-1235 Midgetmen
1250-130 Shivery Shakes
Outside Stage:
10-1030 Blistering Speeds
1045-1115 Chancellor
1130-1205 Big Bill
1220-1255 Mole People
110-145 Cunto!
DJ Richard Henry before/after/between bands. Nash Cook Photoboothin' compliments of Birds Barbershop! Beverages provided by Treaty Oak Distilling!