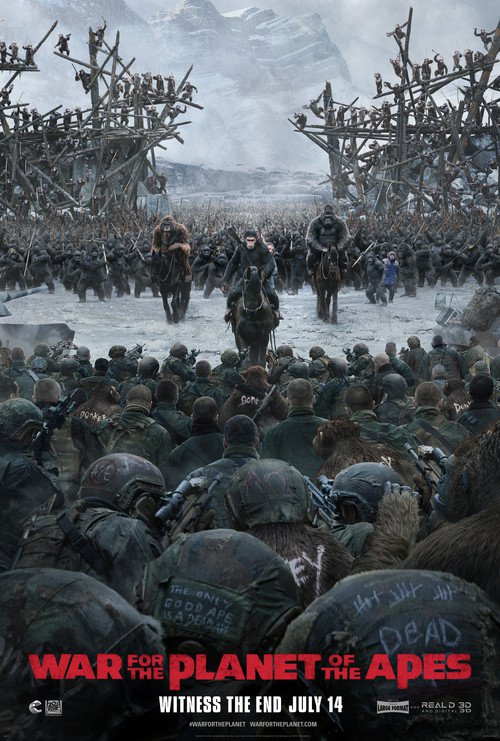 Pre-Screening Stance:
I never would have guessed it when the James Franco-led Rise Of The Planet Of The Apes was first announced, but there's a real chance that it and the films that have followed will form one of the best trilogies ever.  Here's hoping that writer/director Matt Reeves doesn't stumble at the finish line.
Post-Screening Ramble:
War For The Planet Of The Apes picks up a few years after Dawn Of The Planet Of The Apes.  Caesar (Andy Serkis) is a wanted … ape, and he and his kind are trying real hard to avoid conflicts with the army that answered the human distress call from the previous film.  That group is led by The Colonel (Woody Harrelson), a real determined killer of things, and they feature apes that decided to join up with the humans instead of trying to fight them.  So tense!  Now, that's obviously just the setup, but since there's so much unexpected stuff that takes place afterwards, I'm not giving you any other plot points.  Actually, since it's difficult to even talk about this film at all without getting into spoilers, I'll just say a few other things and then bow out.
First of all, War is an emotional roller coaster that really puts Caesar (and you) through the ringer, and I dug the hell out of it.  Secondly, the hilariously honest Bad Ape (Steve Zahn) turned out to be a real big favorite of mine.  Thirdly, do not go into this expecting some kind of summer blockbuster-y type of war movie with lots of crazy battles and such.  It isn't that type of film, it's much more intimate.  Lastly, expect this biblical-like adventure to turn you into a chatter box once you walk out of the theater.
See War ASAP.  It's fantastic.
One Last Thought:
I feel like these Planet Of the Apes movies will be like Jurassic Park and have CG that's championed forever.  There's just so much detail, especially in how the the apes move.  On the flip side of things, I think it's going to be difficult for me to go back and watch something like this without steadily chuckling.