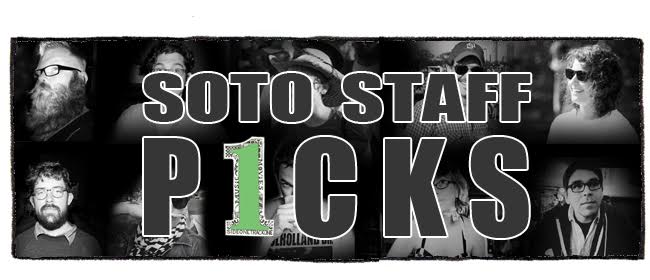 Hey!  Here's what the SOTO staff dug this year.  Enjoy.

Here you go!
1. Tobias Gesso Jr. – Goon
2. Shamir – Ratchet
3. Tame Impala – Currents
4. Mild High Club – Timeline
5. Ultimate Painting – Green Lanes

Assembled from my list other list of Best Albums of 2015, I wanted to give the fine SOTO readers who may not be into metal a little taste of what some of the borderline metal albums this year achieved. These bands can be classified as metal, but in reality when the non-metalhead hears these records will think, "I can understand the words," and "They are actually singing a melody," so I call this list the Best Non-Metal Metal Albums of the Year … enjoy!
5. Clutch – Psychic Warfare (Weathermaker)
The decision to stick with a more rock based approach for Clutch worked on Earth Rocker, and Psychic Warfare presents more of that same powerful attitude and emphasis on their abilities to write strong hooks and lyrically profound jams. A balanced album that seamlessly continues the trajectory of the band gives us some great new singable tunes … and, of course, mentions Texas (so I have to love it even more).
4. Soilwork – The Ride Majestic (Nuclear Blast)
At some point Soilwork will write a terrible record – but The Ride Majestic is not that record. I am astounded by Soilwork's ability to continually write albums that stretch what they do as a band, yet somehow fit perfectly into their catalog. This record has everything for the Euro-metalcore fan to celebrate.
3. Refused – Freedom (Epitaph)
While watching Refused on their reunion tour at Fun Fun Fun Fest, not one of their diehard fans could have possibly guessed that they could even put together another album, let alone a release as striking as Freedom. Almost two decades have passed since their 'final' album, The Shape of Punk to Come, and all we wanted was perfection. In many ways, Dennis Lyxzen and company have not only succeeded, but essentially created an album that did exactly what it needed to do: began the next era of punk to come.
2. Intronaut – The Direction of Last Things (Century Media)
The strange thing here is, whereas failing to pin down Paradise Lost made me move away from them, Intronaut's similarly diverse catalog feels like a creative continuation, rather than a struggle to find a place amongst the ferns. The Direction of Last Things' breadth will surprise even the most hardened critic. If you aren't BTBAM, prog metal is not an easy thing to make palatable – yet this record is undeniable.
1. Baroness – Purple (Abraxan Hymns)
Unlike the rest of the modern metal world, I did not hold Baroness' last album in the highest regard. There were some great moments, but it was a double album that could have been boiled down to one spectacular album. So much has transpired for the band since then – setting aside the bus crash and the fallout of having to relearn how to do even menial tasks, rebuilding a band after two core members cannot continue must be daunting. After getting on the road and touring for a year with a new rhythm section, the iron seemed hot enough to get the recording going. As we hear the pieces of Purple, all that has transpired falls into the rear view. When consumed in full? Enlightened, transcendental, and mature beyond their years, Baroness' Purple grows in stature with every listen. Heavier than the last two records, but with more subtle strides in structure, this is as close as we may get to a perfect album. Baroness tapped into something I hope they can channel for many years to come.

Enjoy!
1. Kendrick Lamar – To Pimp A Butterfly
2. Vince Staples – Summertime '06
3. Earl Sweatshirt – I Don't Like Shit, I Don't Go Outside
4. Fashawn – The Ecology
5. Lizzo – Big GRRRL, Small World


1. Kurt Vile – B'lieve I'm Goin Down (Matador)
I've jammed this more than any other 2015 release. Vile's songs are intriguing, yet detached. BIGD manages to say a lot about us as people and our continued course towards ultimate self involvement/destruction. It's Vile's own cosmic navel gazing that somehow speaks for the mass of all lost human beings looking for recognition while yearning to be left alone.
2. Dean McPhee – Fatima's Hand (Hood Faire)
Over the course of Fatima's Hand and its five meditative (and fully improvised) tracks, you are offered a range of solar spirituals. The depth and variance guitarist Dean McPhee is able to achieve with just a Telecaster, some pedals, and an amp deserves serious accolades.
3. Sun City Girls – Torch of the Mystics (Abduction Records)
Richard Bishop, Alan Bishop, and Charles Gocher's finest moment gets its first reissue since 1993! Whether you consider it an underground footnote or THE best album released in the 1990s (which this writer does,) it's easy to be pumped to not have to pay $150 for the original 1990 Marjora release on vinyl. Now Space Prophet Dogon can be jammed on wax for $17 thanks to Abduction Records.
4. Joshua Abrams – Magnetoception (Eremite)
It's not often that a double LP of extended ensemble performances can be so damned captivating. With his magical guimbri in tow, Abrams and crew are to put it mildly, fucking killing it. This side of music has not sounded this fresh and appealing in a long damned time. Abrams is proving that solar/fire music can and will last way beyond its original purveyors.
5. Jack DeJohnette – Made In Chicago
The best jazz release this year by a mile. Recorded in 2013 at Chicago's Millennium Park, it features pieces by DeJohnette, Mitchell, and Threadgill as well as improvised group pieces – all of them stunning. Even as each of these players age, their work continues to be timeless and endlessly inventive.

With honorable mentions to Lithuania, Metz, Beach Slang, Mike Krol, OBN IIIs and Sweet Talk, I give you my five favorite albums of the year:
1. Courtney Barnett – Sometimes I Sit And Think, And Sometimes I Just Sit
2. Girl Band – Holding Hands With Jamie

3. Bop English – Constant Bop
4. Sleater-Kinney – No Cities To Love
5. Protomartyr – The Agent Intellect