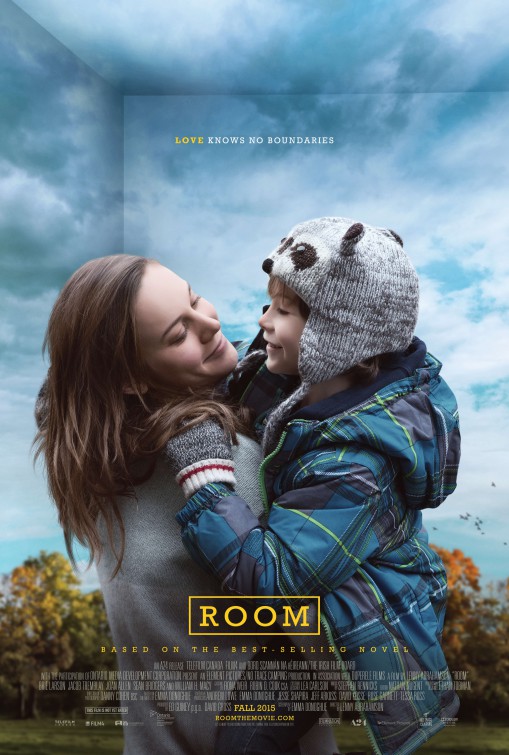 The Impression:
Lenny Abrahamson, who directed the hilarious and weird Frank, takes on the adaptation of Emma Donoghue's Room.  I haven't read the book, but the trailers have strongly suggested that it's an emotional roller coaster.
The Reality:
I won't lie, Room ripped me up.  The story, which follows a woman (Brie Larson) and her son (Jacob Tremblay) as they make the jump from forced captivity to freedom, is all at once scary, beautiful and heart-wrenching.  Larson is fantastic as Joy, a kidnapped and abused woman doing everything she can to raise and protect her child in what can only be described as a no-win scenario, and every time her face filled with emotion, mine did too.  Tremblay as Jack though, is what obliterated all of the darkness in me (it's only temporary, don't worry).  Much of the film is told from Jack's perspective, and because Tremblay is able to inject so much innocence into everything that he says and does, it's hard to watch and not feel like someone is constantly throwing water in your eyes.  Seriously, the kid is legit amazing in Room, and I sincerely hope that he pulls a Quvenzhané Wallis (Beasts of the Southern Wild) and gets nominated come Oscar time.  It would be a shame if it didn't happen.
One last thing in regards to Room,  director Lenny Abrahamson does a great job of keeping it grounded.  He could have easily gone full-Hollywood and loaded the film with overly-dramatic nonsense, but he didn't.  In fact, I'd even go as far as to say the film is frustratingly realistic.
See Room as soon as you can.  Just be sure to go in knowing that afterwards you're going to want to hug someone.
The Lesson:
Here's hoping Jacob Tremblay gets another few good roles before inevitably becoming Haley Joel Osment.