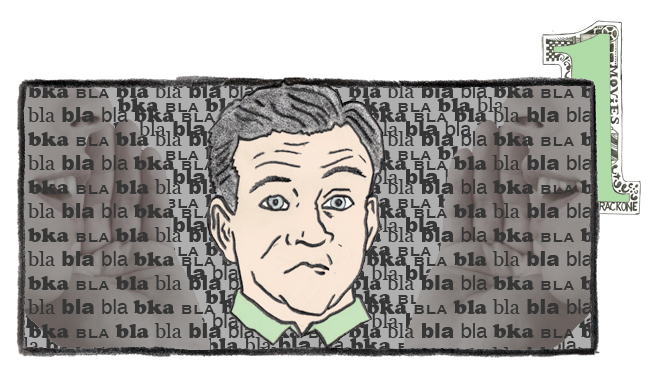 When I was in college, I took a course on developmental stages in aging and learned about how every person is born with the innate ability to conform to every phonetic sound in every language in the world. I also learned that our memories of these phonetic sounds is what sometimes allows us to hear something we can understand in pure and utter gibberish – it's a phenomena also known as mondegreen, and everybody's been guilty of it. Mondegreen, simply said, is the misheard lyric, and over the years I've come to accumulate many, many, many of these. Compiled are my misgivings with what I heard and sang next to the actual lyric.
:Foster The People – Houdini (RAC Remix):
At 3:05 – "Fuck the sun and nobility." really is "Focus on your ability."
For a couple of young upstarts, I thought it was pretty unremarkable that their take on "fuck the establishment" would run along the lines of not liking the brightness of the sun and entitled people. Is it still weird? Yes.
:White Lies – Death:
At 2:58 – "Who's driving this anyway? I picture my hombre." is actually "Who's driving this anyway? I picture my own grave."
I always thought it was a little bit odd that an English band would casually use the word, "hombre" in their lyrics, but it made perfect sense! Who's driving? My hombre!
:Wild Flag – Romance:
At 1:38 – "You wore my make-up. Very creative!" strays a bit from the actual "You were my maker; my re-creator."
I was in love with this song. I sang this song a lot, and I did it quite loudly. Oh Carrie Brownstein, your awesome delivery of lyrics betrayed me here as I sang about a romancer you admired for wearing your make-up.
:Noisettes – Don't Upset The Rhythm:
Chorus – "Doughnuts up the river!" – "Don't upset the rhythm."
This one isn't even my fault. What is heard can never be unheard. I know the title of this song. I know that what I hear makes absolutely no sense. Doesn't matter. Once I heard this song in that manner, I couldn't hear it any other way.
:Jens Lekman – Waiting For Kirsten:
Chorus – "In Gothenburg, we don't have the IKEA." – "In Gothenburg, we don't have VIP lines."
Seeing as Lekman himself is a denizen of the Baltics, who am I to question his need to sing about how his town doesn't have an IKEA?
:Spoon – Jonathan Fisk:
At 1:30 – "Atom bombs and blunt raisins." – "Atom bombs and blunt razors."
Did I know what a blunt raisin is? No. Is it a healthy snack alternative to a pot brownie? I don't know. But that didn't stop me from singing this at concerts for a few years. Years.
:Oh Land – Sun Of A Gun:
At 31 seconds and 1:41 – "I wanna change my carpet (or sometimes, garbage). Don't care what you do now." – "I wanna change my orbit. Don't care what you do now."
I probably heard this right at some point, but then I just really liked the idea of her changing her carpet/garbage in spite of another person.
:Fanfarlo – Feathers:
Chorus – "It is the same. In the river is desirin' and that rock before that time you washed up feeling nothing at all." – "It is the singer. In the river is the siren on the rock before the time you're washed up feeling nothing at all.
No.  I don't know.
:Clap Your Hands Say Yeah – Satan Said Dance:
Chorus – "Stay tuned! Stay stuned! Stay tuned! And dance!" – "Satan, satan, satan said dance!"
This is another one where I knew the title of the song, but I just couldn't un-hear something else.