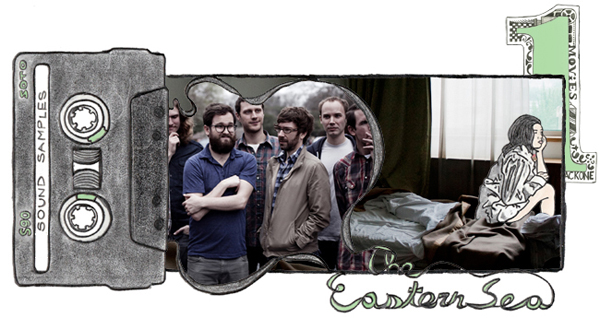 Sound Samples is a SOTO feature meant to provide some insight on what inspired and/or influenced an artist's latest release.  Today's entry comes from Matt Hines of The Eastern Sea.  Their new full length is titled Plague, and is currently available.  The band is also set to play KGSR's Blues On The Green this Wednesday.  If you're not in Austin, there are some other tour dates lined up, and those can be seen here.
Good pop music should lead, much like a skilled dancer leads, with a gentle force that makes new steps seem familiar. My favorite pop always retains this unique leadership quality, even if it has to divert from the rest of the genre's typical characteristics in the process. In my role as a practitioner of pop composition, I struggle with questions of responsibility when it comes to leading the listener: Why should the listener trust me? How much force is too much? Is it morally justified to lead anyone toward anything? While I may never truly have an answer to these questions, I often compromise with myself by insisting that The Eastern Sea has become a balance of familiar and foreign, a mixture ease and difficulty.
On our new record, Plague, my focus in writing and arranging was to ease the listener into a headspace in which the songs could function comfortably. In other words, listening to the album in its entirety should feel painless, even despite the frequently changing narrative path, the jarring number of transitions, and the general density of content. In my opinion, since we are also a relatively unknown band, we have no choice but to take a strong lead, giving our partner (the general listening public) a reason to even say yes when we ask them to dance.
Here's a mix of songs that I believe effectively demonstrates the steps I've learned over the past few years.
:Earlimart – The Hidden Track:
:Sufjan Stevens – No Man's Land:
:Bat For Lashes – Daniel:
:The National – Apartment Story:
:The Appleseed Cast – Fishing The Sky:
:Foals – Total Life Forever:
:Bill Callahan – Eid Ma Clack Shaw:
:Scott Walker – Rosemary:
:White Denim – Tony Fatti:
:Broken Social Scene – Cause Equals Time:
:Doves – Kingdom Of Rust:
:Bee Gees – How Can You Mend A Broken Heart:
:MGMT – Song For Dan Treacy:
:Jens Lekman – A Postcard To Nina:
:Beach House – Used To Be: