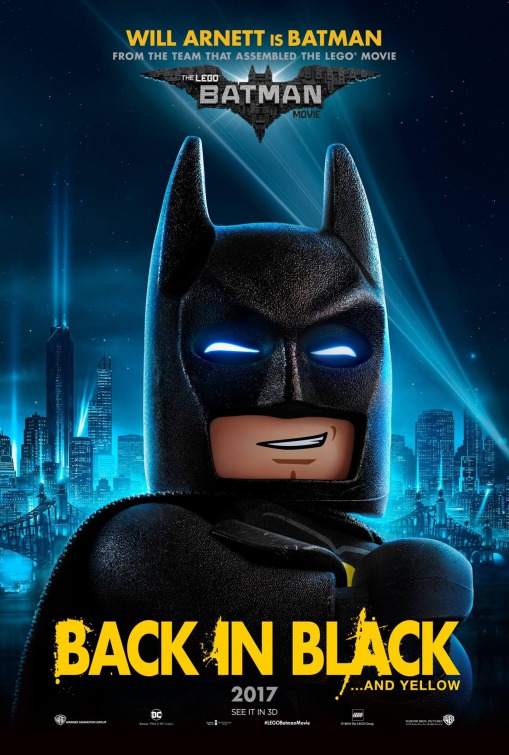 Pre-Screening Stance:
I long ago lost count of how many times I've seen The Lego Movie.  It's so damn good!  To be honest, I don't think The Lego Batman Movie is going to match it, but I'm still expecting a lot from the block-filled film.  Fingers crossed.
Post-Screening Ramble:
If you have kids, they're going to love The Lego Batman Movie.  It's loud, flashy, silly and just manic enough to hold the attention of even the most ADHD-riddled child.  Take them to the theater, and do it now.  Seriously.
Know this for yourself though, I found the film to be too much of a good thing.  Will Arnett's Batman is so great in The Lego Movie, and I now realize it's probably because he has limited screen time.  His selfish attitude and ridiculous one-liners are hilarious alongside the sweetness of Chris Pratt's Emmet, but just all on his own, the antics starts to wear you down and feel overblown.  So much so in fact that by the time the moral of the story is firmly in place (family and friends are important!), it never feels like Batman/Bruce Wayne is legit taking it seriously.  For me, this gave the film a somewhat hollow feel.  And sure, maybe it doesn't matter since it's a movie meant to sell toys and dazzle kids, but having some heart does go a long way.  I mean, that's pretty much why I've gone back to The Lego Movie so often.
Odds are that I'll enjoy The Lego Batman Movie more on my second viewing, but my initial impression is that it could have dialed back the loudness and delivered a more inspired story.  Either way though, your kids are going to dig it.
One Last Thought:
All of the voice work in The Lego Batman Movie is pretty great.  On a related note, this means we now live in a world where Zach Galifianakis has bested Jared Leto in portraying The Joker.  How weird is that?