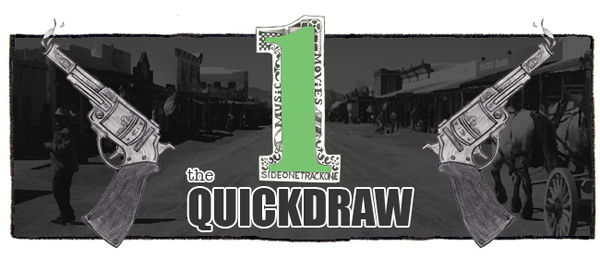 Today's music can't be stopped.  Enjoy.
:Dan Friel – Thumper:  Dan (formerly of Parts & Labor) put out one of my favorite songs last year, so I was pretty pumped to finally see him release something new.  This is a great track, especially if you dig stuff that's noisy and kinetic.  Thrill Jockey will release Total Folklore on February 19.
:Black Rebel Motorcycle Club – Let The Day Begin:  I've never been an overly huge fan of BRMC, but I certainly recognize that they've been a solid band for a long time.  On March 19 they'll put out their six full length, Specter At The Feast, on Abstract Dragon/Vagrant.
:MS MR – Fantasy:  I'm very much looking forward to hearing this band's debut full length.  I really liked the EP they put out last year, and now there's this pop number, which is just fantastic.  Second Hand Rapture is due out in May, but you'll be able to pick up the Fantasy single on March 10.
:Sorne – Ego Altar:  If you want to know who currently has the most experimental and interesting sound in Austin, it's Sorne.  This guy has the potential to really blow up this year, so you should take this intense, soulful track and use it as your excuse to jump on the bandwagon now.  Ego Altar is due out April 9.
:Screaming Females – Poison Arrow:  Some health issues may have sidelined the Screaming Females' touring plans, but they're staying busy.  This garage rock tune is off a collection of home recordings that's only being put on on a cassette.  Chalk Tape is due out February 10 via Don Giovanni.