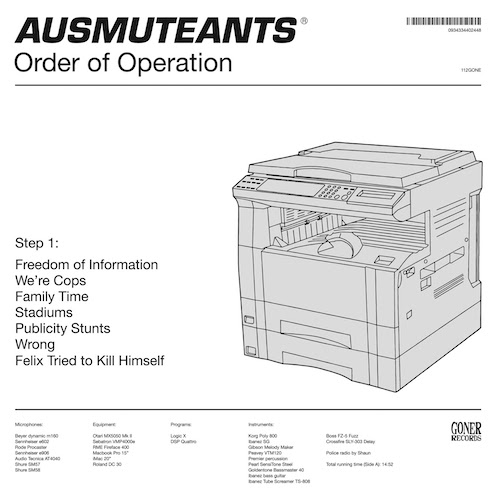 Ausmuteants are a synth punk rock band that hail from from Melbourne, Australia. They started as a two-piece with Jake Robertson on synthesizer and guitar, and Billy Gardner on drums. They've since added Marc Dean on bass and Shaun Connor on guitar to flesh out their sound.
In 2013 the band released their second album, Amusements, and on September 30 the band will deliver Order of Operation via Goner Records. The record kicks off with the glorious beats and riffs of Freedom Of Information, which is about as perfect a punk-pop song as you're going to hear. The album is filled with songs that harken back to the genius of Devo mixed with a healthy dose fuzz and new wave. It's punctuated by Jake's distinct yell/sing vocals which add the perfect amount of snarl and punk brattiness.
Ausmuteants will soon embark on their first US tour, which brings them to Austin as they make their way to Gonerfest 11 in Memphis. They'll take the Beerland stage on September 23 where they'll headline a bill featuring Simple Circuit, Empty Markets, and Jonn Patrik. You might not realize it now … but that is an amazing lineup. Missing this show will only lead to regret and self-loathing. Be there!
:Ausmeteants – Freedom Of Information: