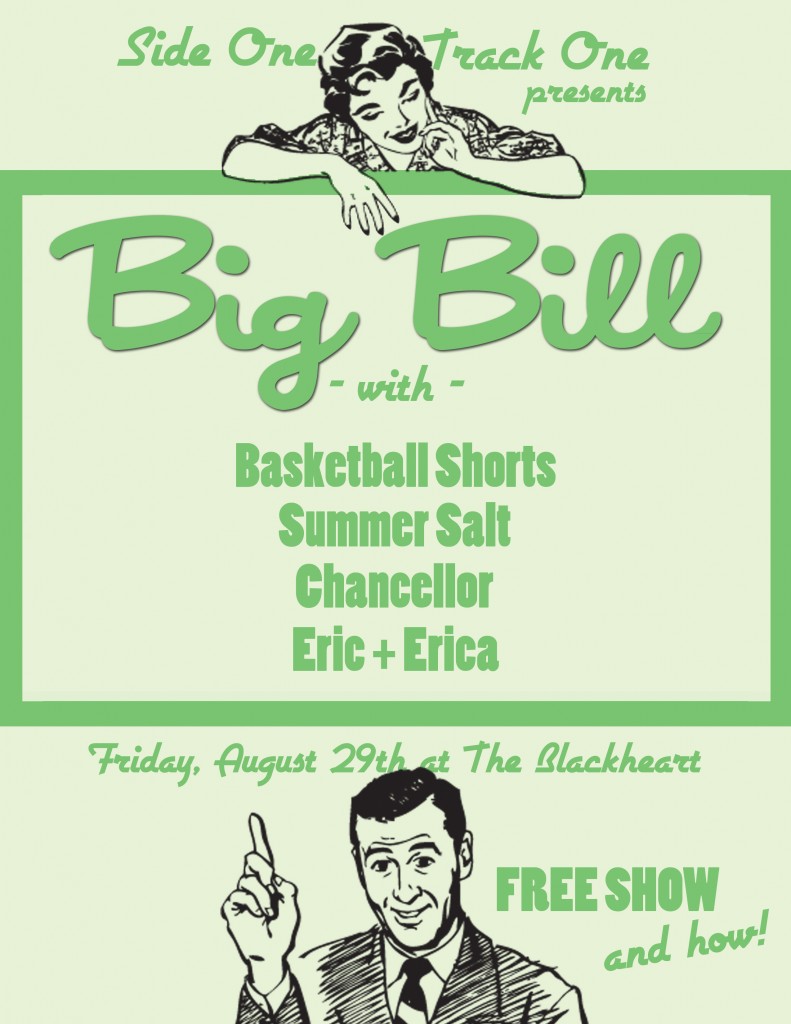 SOTO Presents is at the Blackheart on Friday, August 29, and it's going to be a grand ole time.  Not only are we celebrating a year of gigs at the best spot on Rainey, but it's also Austin Music People's United We Jam.  Naturally, all of this called for a bigger show, so you'll find five bands on the lineup this month.  Come out for Big Bill, Basketball Shorts, Summer Salt, Chancellor, and Eric + Erica.
As always, entrance to the show is thoroughly FREE (though, donations for United We Jam will be taken at the door).  You just need to be 21+ to enter.
The official Facebook invitation can be found HERE. Invite everyone you went to high school with.
SET TIMES:
9pm – Eric + Erica
10pm – Chancellor
11pm – Summer Salt
12am – Basketball Shorts
1am – Big Bill
—
BIG BILL
Big Bill are a rad garage rock act, and we're pumped to have them as our headliner for the evening.
BASKETBALL SHORTS
Basketball Shorts know exactly what they're doing when it comes to writing a good hook.
SUMMER SALT
Phil and Eugene from SOTO favorite Yum make up part of Summer Salt.  They churn out undeniably good pop tunes.
CHANCELLOR
We've been wanting to get down to Chancellor since seeing them own a show during free week back in January.  Don't let us rock alone.
ERIC + ERICA
Currently based in North Carolina, Eric + Erica will be in town to help us kick off the fun on 8/29.  Come out early and let their gentle sound ease you into the evening.