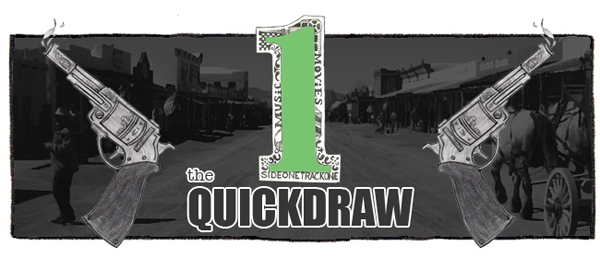 Today's Quick Mention: There are a ton of shows set for this weekend, but you should pick either of the following to attend tomorrow night. The first is Marmalakes, Wild Child, Shakey Graves, and Sadie And The Blue-Eyed Devils at the Parish, and the other is Moonlight Towers, Oh No Oh My, Burgess Meredith, Tacks The Boy Disaster, and the Frank Mustard Project at Antone's.

Today's music was found in a wild kangaroo's pouch. Enjoy.

:The People's Temple - Looter's Game: This act apparently had a well-received debut full length last year, but I totally whiffed on it. Where were you guys on that one? In any case, this is two minutes of pure garage rock fun, and I'm ready to check out more. The band will release the nicely titled More For The Masses at some point in September via Hozac.

:Taken By Trees - Dreams: If you've had a rough week, this track will help you. Victoria Bergsman, who is the main brain behind TBT, really crafted something that just sweeps you off your feet and puts you in a better place. Other Worlds is due out October 2 through Secretly Canadian, and you'll be able to see the band play the Mohawk on November 13.

:Ariel Pink's Haunted Graffiti - Only In My Dreams: There's a good chance this is one of best retro pop songs that 2012 will deliver, but since the band has yet to keep my attention for an entire album, I think I'll try to keep my excitement in check. You'll be able snatch up Mature Themes on August 21 via 4AD, and there will be a chance to see them live at the Mohawk on September 7.

:Lykke Li - Silver Springs (Fleetwood Mac Cover): Just Tell Me That You Want Me: A Tribute To Fleetwood Mac is due out on August 14 via Hear Music/Concord, and I think it's going to make for one interesting listen. I mean, just look at this inspired cover from Lykke Li. What if they're all this good!? That would result in needing months to work up the strength to take it off repeat.

:Chelsea Light Moving - Groovy And Linda: Thurston Moore seems to be having a good time with CLM, and that's just one of those things I consider to be great for the planet This track is oddly catchy, so be prepared to have it stuck in your head for a while. There's still no official word on when a full length is due, but I assume it'll be some time before the end of the year.


- -





Unless otherwise expressly stated, all text in this blog and any related pages, including the blog's archives, is licensed by John Laird under a Creative Commons License.