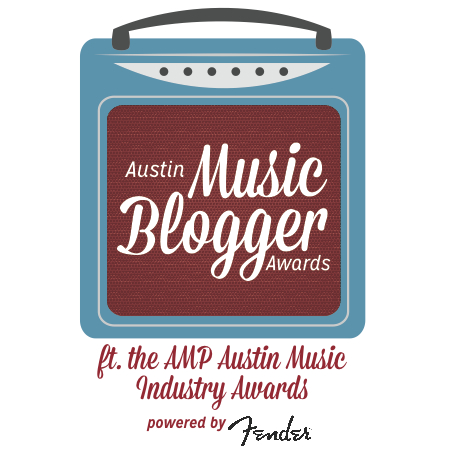 Thursday, February 27
This is when Side One Track One, the other blogs in town, and Austin Music People (AMP) are going to rally together for the Austin Music Blogger Awards at Spiderhouse Ballroom.  Hopefully you'll come out!  There will be lots of awards given away and plenty of support going to AMP, who have been doing plenty of great things for Austin's music community.  Also, check out the following lineup up of rad acts that will be playing that night:
A Giant Dog
Mirror Travel
Shivery Shakes
Orthy
Magna Carda
Jess Williamson
Tickets are $12 in advance and $15 at the door.  There's also a $40 VIP ticket that includes a pre-show reception.
As for the awards and such …
This year's AMP award categories include Best Venue Sound Engineer, Best Recording Studio, Best Local Music Promoter, Best Arranger, and Best Poster Design. AMP will also be presenting its Esme Barrera Award in Music Activism and Education, named for late Austin music superfan and force-of-nature Barrera, and its Unsung Hero Award to a contributor to the local music scene.  Get more info on those here.  By the way, please note that there's a Reader's Choice Award at the bottom of that page. Show your favorite some love!
Below you'll find the official AMBA nominations. They were decided on by the newly minted Austin Music Bloggers Alliance, which includes SOTO, Austin Bloggy Limits, Austin Town Hall, Austin Writes Music, OVRLD, Pop Press International, Red River Noise, Republic of Austin, and Ultra8201.
AMBA NOMINATIONS:
BEST ARTIST:
Aisha Burns
Jess Williamson
Jesse Woods
Phranchyze
Walker Lukens
BEST BAND:
American Sharks
A Giant Dog
Black Books
Mirror Travel
OBN IIIs
BEST ALBUM:
A Giant Dog – Bone
Black Books – Self Titled
Love Inks – Generation Club
Mirror Travel – Mexico
Royal Forest – Spillway
BEST EP:
Borrisokane – Murdering Teeth
Feverbones – Self Titled
Growl – Gallery
Night Drive – Position 1
Sweet Talk – Flash of Light
BEST SINGLE:
Gal Pals – Earthquake
Magna Carda – Shoes $ Money
Marmalakes – Wells
Shivery Shakes – Sidewalk Talk
Tiger Waves – Fields
BEST DJ:
Learning Secrets
DJ Mel
DJ Miss Manners
DJ Orion
DJ ulovei
BEST PHOTOGRAPHER:
Brian Gray
Chad Wadsworth
Pooneh Ghana
Randy Cremean
Tim Griffin
BEST VENUE:
Cheer Up Charlies
Holy Mountain
Hotel Vegas
Mohawk
Red 7