Wednesday, May 16, 2012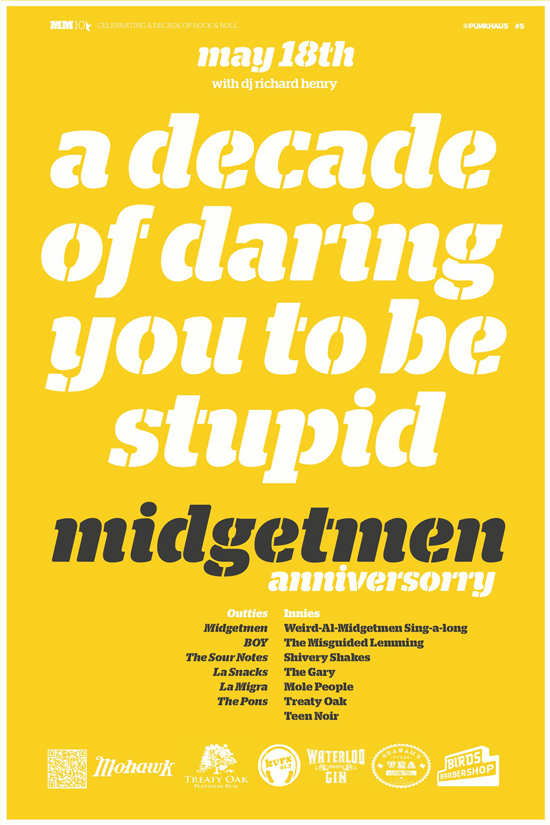 The lifespan of a local band is often quite short. The Midgetmen, however, have beaten the odds in an ever changing local music scene by surviving 10 years together as Austin's premiere, or maybe only, "slop punk" band.

This Friday they're throwing their 10th Anniversorry (yes, that is the correct spelling for this special event) party at the Mohawk and celebrating "a decade of daring to be stupid." They've put together a packed lineup of local talent including several of my favorites (The Pons, The Sour Notes, Shivery Shakes, La Snacks, and BOY), plenty of complementary beverages, and a photo booth to document your possible drunken antics. The party starts early with doors opening at 6pm and music kicking off at 7:30pm. If you have the stamina to stay to the end, you'll be subjected to ... uh, I mean, get to experience the 1985 greatness of The Midgetmen playing all the songs from Weird Al Yankovic's Dare To Be Stupid. Last year I had my first "Anniversorry" experience, and it was a blast. I highly recommend kicking off your weekend at the Mohawk.

You've got to love The Midgetmen because they actually dare to have fun when they play - no moping or gazing at their shoes here. They're also sincere supporters of Austin music and invite a bunch of their friends and favorite local bands to join them. 10 cheers for 10 years - thanks Marc, Jon, Justin, and Alex for sticking around.

:Midgetmen - King Kong:


- -





Unless otherwise expressly stated, all text in this blog and any related pages, including the blog's archives, is licensed by John Laird under a Creative Commons License.