Sunday, May 6, 2012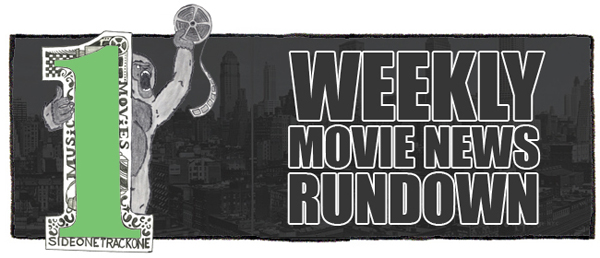 Time for your weekly notable news update! Below you'll find a slew of sentences meant to provide a brief glimpse of what's been going on over the past week in movieland. If something leaves you desperate for more info then my advice is to do a little extra research on one or all of the following fantastic sites: Latino Review, Dark Horizons, Ain't It Cool News, CHUD and/or JoBlo. Now, read on!

Jonah Hill has reportedly joined the cast of Martin Scorsese's The Wolf Of Wall Street. Leonardo DiCaprio is already set to star.

Sharlto Copley (District 9) has landed roles in Oldboy, Maleficent, and Open Grave.

Guy Pearce and Robert Pattinson may star in David Michod's Rover. It's said to follow a guy who chases a group of thieves across the Outback after they steal his car.

Brad Bird has been hired by Disney to direct 1952. No word yet on the plot, but it was written by Damon Lindelof and Jeff Jensen.

Glee producer Robert Aguirre-Sacasa and Joseph Gordon-Levitt are said to be interested in putting together a Little Shop Of Horrors remake.

Luke Evans, David Tennant, and Rihanna are all said to be in talks to join Fast Six. Michelle Rodriguez recently made her return to the series official.

Jody Hill (Eastbound And Down) has been hired to pen a Dukes Of Hazzard movie.

Gary Ross (The Hunger Games) is reportedly in talks to direct Houdini for Summit. The film will follow the magician's "secret life" as a spy.

Marvel may be looking at a solo Hulk movie for 2015.

Gareth Evans (The Raid) is set to direct Breaking The Bank. The movie will be based on UFC fighter Lee Murray, who put together one of the largest cash heists in history.

John Hawkes will star in Too Late, which is about a private investigator that's in love with the woman he's been hired to find.

Michael Arndt (Toy Story 3) has been hired to do a rewrite of the Catching Fire script.



This Week's Notable Trailers:
















- -





Unless otherwise expressly stated, all text in this blog and any related pages, including the blog's archives, is licensed by John Laird under a Creative Commons License.