Wednesday, June 27, 2012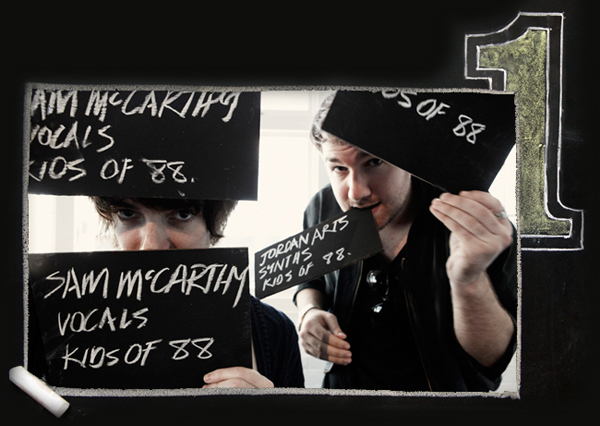 Some kids are just born different. Realizing this back in their Catholic school days, Sam McCarthy and Jordan Arts are a duo thatís been banking on different. Calling themselves Kids of 88 - guess why - the New Zealand pair take influences from the two entirely different decades that their border generation straddles and throws it into the amalgamated mix that is modern music. At their core, Kids of 88 serve up a fairly simple combination, and itís the sense of nostalgia and quirk that makes them who they are. They were fun. They were upbeat. They were everything you needed to throw a good party. They were, in summation, good, great and awesome. Soon enough, Kids of 88 found themselves opening for bands like Scissor Sisters, playing on the screens of MTV and worked up a chatter at festivals like South by Southwest. Following their craft and style of picking up sifted bits and pieces of past musical pop culture, their debut album, Sugarpills, had them ride a fame so runaway, the wheels may have well flown off as they screeched across the line into a haze of gold and platinum work. Eventually the flashbulbs of their seemingly superstar lives settled, and then ... nothing.

Well, of course, that is nothing until now. Two years following their first release, Kids of 88 are aiming to release their follow-up later this summer, and if their tease of a song, Tucan, is any indication, Iíve got something to well look forward to. Tucan is absolutely transporting, you can practically take a vacation in this song - tribal, handclapped beats and an exotic background chant juxtapose against an outline of dreamy modern instrumentation and close, hushed harmonies. Their sophomore album, Modern Love, is aiming at a July/August release.

:Kids of 88 - Tucan:

:Kids of 88 - Just A Little Bit:

:Kids of 88 - Cotton Mouth:


- -





Unless otherwise expressly stated, all text in this blog and any related pages, including the blog's archives, is licensed by John Laird under a Creative Commons License.