Monday, June 25, 2012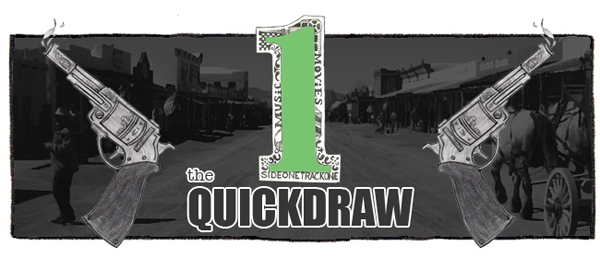 Today's Quick Mention: Tonight I'm off to see Ted. I think it should be a good bit of R-rated fun, but I realize there's also a large chance it'll just be terrible. Look for a breakdown later in the week.

Today's music was found in an old shoebox. Enjoy.

:Chomp - Throw Out Your Wish List: Joe Boyer has done work with Cloud Nothings and Total Babe, so it makes sense that his new project has a lot in common with both acts. First of all, it features a member from CN and TB - Jayson Gerycz is in the former, Chris Brown is in the latter. Secondly, it's got a similar lo-fi, fuzzed out sound that's hard to not like. Buddah Jabba Momma is due out September 18 via Exit Stencil Recordings.

:Lace Curtains - Bedroom Honesty: Despite the fact that the title of this sounds like something you'd see as a topic on some terrible daytime talk show, I really dig the track. It's got a very effortless pop thing going on. This band, which is fronted by Harlem's Michael Coomer, will release The Garden Of Joy And The Well Of Loneliness next month via Female Fantasy.

:Opossom - Blue Meanies: Kody Nielson, who is a member of Unknown Mortal Orchestra and Mint Chicks, is featured in this act. They're not nearly as bombastic as Tame Impala, but they do have a similar pop/psych combo sound. I like it a lot, and I'm anxious to check out more. You can expect Electric Hawaii to be put out on August 7 via Fire.

:The Folk - Rules Of Youth: This Canadian outfit sent me an email late last week, and I quickly found myself attached to this song. I like the vocal work, and the music packs just enough of a punch to warrant me cranking the volume. The band just put out an EP called Say It Again, and you can get it for however much you'd like to pay via their Bandcamp.

:jj - High Summer: This is a strange track. It's so scatterbrained and random that it makes my brain hurt, and yet I've struggled with taking it off of repeat. There's just something about the steady stream of thoughts that pour out of the lyrics. For some reason I want more! It's crazy. This act just released a free EP titled High Summer. You should give it a shot.


- -





Unless otherwise expressly stated, all text in this blog and any related pages, including the blog's archives, is licensed by John Laird under a Creative Commons License.