Monday, June 18, 2012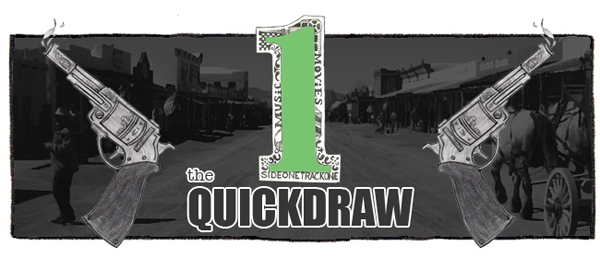 Today's Quick Mention: For a while now I've wanted to review/talk about older movies, but I didn't want to do it here at SOTO because I didn't think it was a good fit. So, this weekend I started a Tumblr page. It would be great if you guys would follow/bookmark/mock it.

I found today's music at the bottom of a Cracker Jack box. Enjoy.

:Poolside - Slow Down: If you're looking for a new summer theme, then I believe this is it. Every time it comes on I instantly imagine lounging by a pool or hanging out in a backyard somewhere as this blasts in the background. I dig it. A lot. We'll all be able to grab the band's debut, Pacific Standard Time, when Day And Night Recordings puts it out on July 9.

:The Gorgeous Hands - Swear To Me (That You'll Stay): This local act used to be known as the Magnificent Snails, but now they're the Gorgeous Hands. This past Saturday was my first time seeing then play, and I though they were really impressive. You need their inspired pop sound in your life. They just released the Swear To Me (That You'll Stay) 7".

:Erika Spring - Hidden: As you may already know, Erika is the singer/keyboardist from Au Revoir Simone. She finally decided to do a little solo frolicking, and this is the world's first taste. It's good. There's nothing about it that I'd consider to be overly catchy, but it's a very well crafted song Cascine is all set to release the self titled EP on July 10.

:Two Gallants - Broken Eyes: Believe it or not, it's been a whopping five years since these guys last put out an album. Where did the time go!? Anyhow, they still sound very much like Two Gallants, which is a good thing. The duo have made the move from Saddle Creek to ATO Records, and that's who will release The Bloom And The Blight on September 4.

:Conveyor - Right Sleep: I was sent this band's new album a couple of week's back, but it wasn't until yesterday that I got to spend a little time with it. Good stuff, if you ask me. It's the sort of pop music that isn't afraid to challenge you, and I think that's great. The nice folks over at Paper Garden Records will release Conveyor's self titled debut on July 17.


- -



Unless otherwise expressly stated, all text in this blog and any related pages, including the blog's archives, is licensed by John Laird under a Creative Commons License.