Sunday, June 17, 2012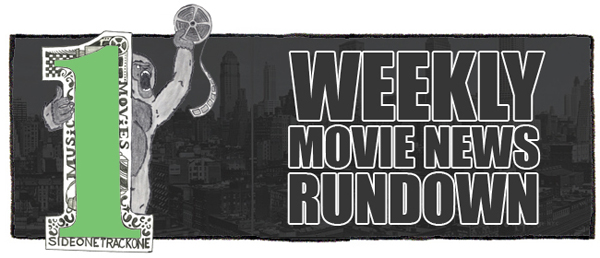 Time for your weekly notable news update! Below you'll find a slew of sentences meant to provide a brief glimpse of what's been going on over the past week in movieland. If something leaves you desperate for more info then my advice is to do a little extra research on one or all of the following fantastic sites: Latino Review, Dark Horizons, Ain't It Cool News, CHUD and/or JoBlo. Now, read on!

Jonah Hill has once again landed a role in Django Unchained. He previously had to drop out due to scheduling issues, but now he's back with a currently unknown part.

Paramount has delayed shooting on the Teenage Mutant Ninja Turtles reboot. They reportedly want to work on the script and lower the budget.

Benicio Del Toro will star in Jimmy Picard. It will be based on the book Psychotherapy Of A Plains Indian.

Will Gluck (Easy A) will direct a movie based on the book Skyjack: The Hunt For DB Cooper.

Star Trek 2 will be released in IMAX 3D.

Hugh Laurie (House) is in talks to play the villain in the Robocop reboot.

Phillip Seymour Hoffman may play Plutarch Heavensbee in The Hunger Games: Catching Fire.

Chris Hemsworth will reportedly star in In The Heart Of The Sea. The book is based on the true story of a whaling ship that was hunted, and eventually sunk, by a sperm whale. The incident inspired Moby Dick.

Sony, Hasbro and Happy Madison are set to make a movie based on Tonka Trucks.

Matt Damon has signed on for The Magnificent Seven remake. Tom Cruise, Morgan Freeman, and Kevin Costner are said to also be attached.

Zachary Levi (Chuck) may sign on to be one of The Warriors Three in Thor 2.

Noah Oppenheim (from the upcoming The Secret Life Of Houdini) has been hired to write an adaptation of George Orwell's 1984.

Ethan Hawke recently noted that Richard Linklater is planning to do another entry in the Before Sunset/Sunrise series this summer.

There's a rumor going around that says a 35 minute longer version of The Avengers will be put in theaters to help promote the release of the blu-ray.

Joe Cornish (Attack The Block) is set to direct an adaptation of the sci-fi classic Snow Crash.

Ubisoft is reportedly close to signing on with Paramount to help develop movies based on the Splinter Cell series.

Tom Hanks, Emma Thompson, and Colin Farrell will star in Saving Mr. Banks. The movie is said to be about Walt Disney's quest to get PL Travers to sell him the rights to her book Mary Poppins.

The Duplass brothers will reportedly direct a remake of 1978's Same Time, Next Year. The original followed two people, who are married to others, that meet up for one night together every year.



This Week's Notable Trailers:
















- -





Unless otherwise expressly stated, all text in this blog and any related pages, including the blog's archives, is licensed by John Laird under a Creative Commons License.