Monday, July 23, 2012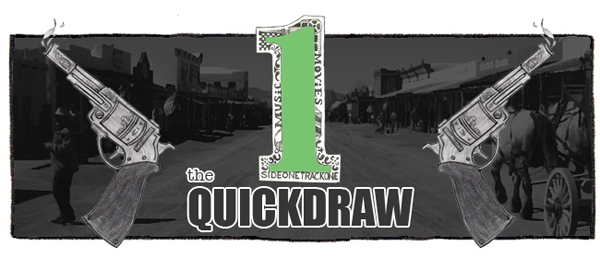 Today's Quick Mention: Don't be afraid to get out tonight and see the always fantastic Dana Falconberry. She's playing at Frank with the Driftwood Singers and Shakey Graves.

If you listen to today's music backwards, you'll find nothing of substance. Enjoy.

:The Felice Brothers - Lincoln Continental: These guys are especially good at telling a story, so if you're looking for something today that features lyrics you can get lost in, then this it. The nicely titled God Bless You, Amigo just came out last week. It's a 20 track effort (with 12 original tunes, and eight cover songs) for just $5. That's totally can't miss!

:Solos - Carpe Diem: This little project is actually the work of Spencer Siem (Hella) and a folk singer-songwriter by the name of Aaron Ross. It's certainly an unlikely pairing, but this kinetic gem has immediately convinced me that their upcoming LP is going to be a good one. Beast Of Both Worlds is due out on September 11 via Joyful Noise Recordings.

:The Night Beats - Dial 666: Somewhere along the way I totally missed out on this band, and I sort of hate myself for it. As you'll see in this over infectious piece of psych rock, they're pretty great. The band has a self titled full length that is currently available, and they'll be playing in Austin at Red 7 on August 15. We should all go there and present them with high fives.

:Icky Blossoms - Heat Lightning (Ghost Loft Remix): I've been unable to fully connect with the few tracks I've heard from this band, but I do think this remix is pretty snazzy. Maybe I should use it as an excuse to motivate myself to check out their self titled full length, which is out now. As for this track, it's just a one-off, so make sure you grab it and store it away if you like what you hear.

:Cate Le Bon - What Is Worse: Cate has already put together a new effort, and I haven't even all the way listened to the full length she released earlier this year. I need to catch up. Anyhow, this track is an ear pleasing pop effort. The CYRK II EP is due out on August 21 via The Control Group. If you're in Austin, you'll be able to catch her and Laetitia Sadler at Red 7 on September 29.


- -





Unless otherwise expressly stated, all text in this blog and any related pages, including the blog's archives, is licensed by John Laird under a Creative Commons License.