Sunday, July 15, 2012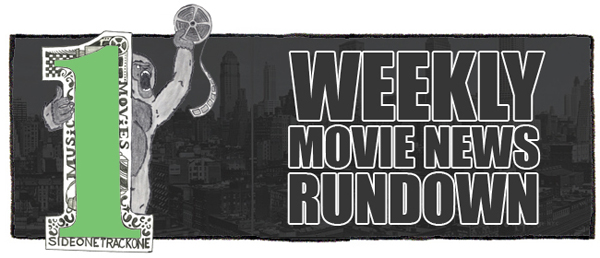 Time for your weekly notable news update! Below you'll find a slew of sentences meant to provide a brief glimpse of what's been going on over the past week in movieland. If something leaves you desperate for more info then my advice is to do a little extra research on one or all of the following fantastic sites: Latino Review, Dark Horizons, Ain't It Cool News, CHUD and/or JoBlo. Now, read on!

David Slade (Twilight: Eclipse) is reportedly no longer attached to direct the Daredevil reboot.

Josh Trank (Chronicle) has been hired by Fox to direct a new Fantastic Four movie.

The next Captain America movie has officially been titled Captain America: The Winter Soldier.

Alex Proyas (I, Robot) may attempt to adapt Joe Golem And The Drowning City. The graphic novel follows a man as he fights for an alternate 1970s lower Manhattan.

Will Smith is said to be aiming to direct a biblical epic based on Cain and Abel.

Because of scheduling issues, Mads Mikkelsen will not be the villain in Thor: The Dark World.

Jessica Biel is said to be close to signing for a role in The Wolverine.

Roland Emmerich and Dean Devlin have re-teamed up and are reportedly in the early stages of trying to make a sequel to Independence Day.

Patrick Melton and Marcus Dunstan (Pacific Rim) have been hired by Sony to pen an adaptation of the video game God Of War.

Channing Tatum is set to produce and star in a movie based on the life of Evil Knievel. He's also said to be in the midst of putting together a sequel to Magic Mike.

Lindsay Lohan may star in Scary Movie 5.

Ed Helms will reportedly star as Rusty Griswold in a new Vacation movie.

Michael Fassbender is planning to star in and produce an adaptation of the video game Assassin's Creed.

Phillip Seymour Hoffman has been cast as Plutrach Heavensbee in The Hunger Games: Catching Fire.

Anthony Hopkins has landed the role of Methuselah in Darren Aronofsky's Noah.

Peter Jackson recently said he's considering shooting more material for either an extended edition of his two Hobbit movies, or a third entry all together.

Daniel Radcliffe will star in Alexandre Aja's adaptation of Horns. The book follows a man who wakes up one day with devil horns and the ability to influence people to do bad things.

Joe Cornish (Attack The Block) is set to adapt Rust: Visitor In The Field. The comic dealt with two kids becoming friends in the middle of a worldwide robot war.

Breck Eisner (Sahara) will direct the Stretch Armstrong movie.

Dreamworks has confirmed that they're working on Kung Fu Panda 3.

Iko Uwais (The Raid) has signed on to appear in Keanu Reeves' The Man Of Tai Chi.

Christian Bale and Nicholas Cage may star in a drama based on the life of Nicola Tesla.

The rights to adapt the video game Deus Ex: Human Evolution have been bought by CBS Films.

The final Hunger Games movie will officially be split into two parts.

PS - For in-depth coverage of Comic-Con, I recommend HitFix. They did a stellar job this year.



This Week's Notable Trailers:
















- -





Unless otherwise expressly stated, all text in this blog and any related pages, including the blog's archives, is licensed by John Laird under a Creative Commons License.