Sunday, February 12, 2012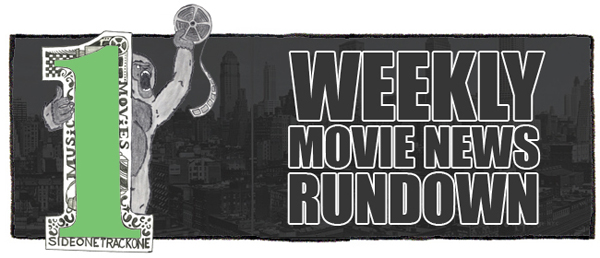 Time for your weekly notable news update! Below you'll find a slew of sentences meant to provide a brief glimpse of what's been going on over the past week in movieland. If something leaves you desperate for more info then my advice is to do a little extra research on one or all of the following fantastic sites: Latino Review, Dark Horizons, Ain't It Cool News, CHUD and/or JoBlo. Now, read on!


Dracula Year Zero has been revived by Universal. The movie, which details Dracula's beginnings as Vlad The Impaler, was originally setup for Alex Proyas to direct and Sam Worthington to star in. Neither are expected back.

Speaking of Dracula, Russell Crowe is in talks for the lead role in Harker. The film is said to follow a Scotland Yard detective who is tracking a series of murders that might be tied to the famous vampire.

Michael Fassbender may star in Ridley Scott's adaptation of Cormac McCarthy's The Counselor.

Sean Bean has reportedly landed a role in the adaptation of the graphic novel The Knife That Killed Me.

Morgan Freeman has signed on to join Tom Cruise in Oblivion.

Sullivan Stapleton (Animal Kingdom) will star in 300: Battle Of Artemisia. Naom Murro (Smart People) is directing the 300 prequel that was scripted by Zack Snyder.

Vince Vaughn and Owen Wilson will team up again for Interns. It's said to be about a couple of older guys who end up interning at an internet company after they decide to restart their careers.

Sylvester Stallone and Arnold Schwarzenegger will star in The Tomb, which is about a security expert who must escape the prison he designed.

Ridley Scott recently mentioned that he doesn't know if the upcoming Blade Runner entry is going to be a sequel or a prequel, so talks with Harrison Ford have not happened.

Zack Penn (X2: X-Men United) has been hired to rewrite Karate Kid 2.

Hailee Steinfeld (True Grit) may appear in Can A Song Save Your Life?. Mark Ruffalo and Scarlett Johansson are already set to star.

Saorise Ronan (Hanna) may star in The Order Of The Seven. The film is said to be a martial arts-based version of Snow White.

Haley Joel Osment is said to be starring in I'll Follow You Down. The movie reportedly revolves around the son of a scientist who is trying to find out what happened to his father.

Natalie Portman has landed roles in both of Terrence Malick's upcoming films, Knight Of The Cups and Lawless.

Denzel Washington and Mark Wahlberg may star in the adaptation of the graphic novel 2 Guns.

Robert Rodriguez is said to be shooting Machete Kills. Danny Trejo, of course, is reprising the titular role.

Because of budget concerns, Legendary Pictures has canned Alex Proyas' planned adaptation of Paradise Lost.

Brian De Palma will direct Jason Statham in a remake of the 1986 Burt Reynolds action flick Heat.

Joseph Gordon-Levitt will direct and star in a currently untitled comedy. Scarlett Johannson is already set for one of the two female roles.



This Week's Notable Trailers:














- -





Unless otherwise expressly stated, all text in this blog and any related pages, including the blog's archives, is licensed by John Laird under a Creative Commons License.