Tuesday, October 4, 2011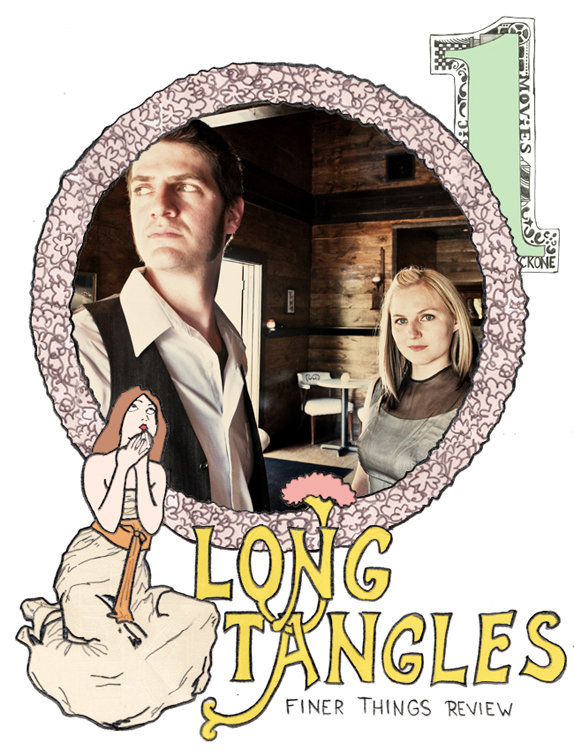 If you come around these parts enough then you probably know we don't really play the "album review" game. We like to recommend/suggest/insinuate, and that's about it. However, it wouldn't be fun unless we made a few exceptions here and there, and that's why I happily said yes when a local duo known as the Long Tangles asked me to be the first to spew out a few words about their upcoming full length, Finer Things.

Before I delve into the duo's new effort, I do want to fully disclose that over the years Courtney and Earl have become friends of mine. Fear not though, I won't be unfairly championing them just because we've given each other a few high fives and hugs. Finer Things is a nice effort, and I think it's the two of them taking a solid step towards something that could be great, but it's not as though it's the best thing to come out of Austin in the last however long, and I won't be describing it as such. So, with that tidbit out of the way, let's discuss this little LP.

By the way, when I say little, I mean exactly that. The Finer Things tracklist is only seven-deep, but fortunately it does sound as though the duo went for quality over quantity. There's only one off-track, and it's actually album opener "Drawing Conclusions." I like its simplistic, yet slick arrangement and the soaring vocal work from Courtney is well done, but there's a particular stiffness to it that doesn't at all fit with the six other tracks that make up Finer Things.

Don't let the song fool you though, as the rest of the disc is inspired The anthemic "Victory" and the infectious "Oh, River" both sound as honed as anything I've ever heard from the Long Tangles. And yes, while both of the songs certainly make my brain want to scream out Mates Of State, they're are so well crafted and full of energy that it's not hard to look past all the easy comparisons between the two acts. As for the other tracks on Finer Things, "I Want You," "Sentiment," and "San Ve San" are all solid, upbeat pop tunes that you'll probably find stuck in your head at some point. There's also the breezy and effortless gem that is "Maricopa County," which is so good it left me wishing that Finer Things had a few more like it.

The Long Tangles are a SOTO-fav, so of course I'm going to say they're a band to keep an eye on. Fortunately for me, they made that statement easier by churning out a solid effort that features some great highlights. If you happen to decide to pick up Finer Things, the only thing that will disappoint you is the short tracklist.

:The Long Tangles - Victory:

:The Long Tangles - Maricopa County:

Finer Things can be streamed and purchased at the Long Tangle's Bandcamp page. Also, if you like this review, let me know and I may look into trying to make time to do more. It could be fun. Plus, it gives me an excuse to keep making Brad produce his nifty artwork.
- John Laird -





Unless otherwise expressly stated, all text in this blog and any related pages, including the blog's archives, is licensed by John Laird under a Creative Commons License.