Wednesday, November 23, 2011
Happy day-vefore-Thanksgiving! Iíve been pre-gaming Thanksgiving break pretty hard, both in terms of food consumption and slacking off. I went to four shows last week, and I had originally planned to center this post on one of them, the secret Green Day experience at Red 7. And let me tell you, it was absolutely magnificent. They played some of my favorite songs, like "Letterbomb." It was sloppy, it was drunk, and it was fabulous.

:Green Day - Letterbomb: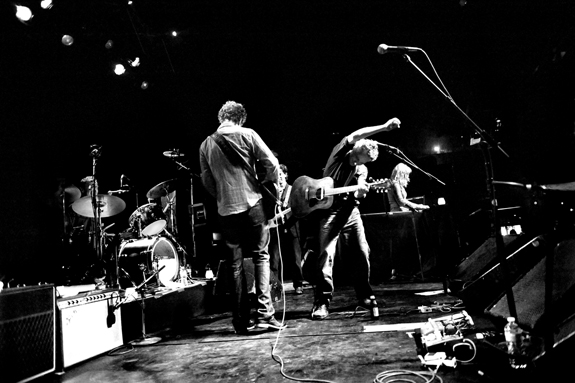 But then the Jayhawks had to go and blow everyone out of the water. They may be on the elder side of the scene, but theyíve still got it. Their Americana laced almost-indie rock (yes, Iím back on that twang again) sound is sweeter than ever in the new material, and the oldies have stood the test of time. Their music is gorgeous and timeless, causing an epiphany of sorts during the show - "oh, so this is who Wilco is trying to be." The Paramount was a perfect place to see the show, and a good portion of the buzzing, excited audience was definitely drunk on wine and texting the babysitter to stay another hour. But all jokes aside, even if I was the youngest person there, I donít care, cause the Jayhawks put on a great show. Iíll admit that I even teared up when they played their classic "Iíd Run Away," that gorgeous Hammond organ and harmonies floating up to the intricate ceiling of the venue.

:The Jayhawks - I'd Run Away:


PS - I also wanted to mention Marmalakes newest release, Even Clothed. These guys put on an incredible CD release show last weekend, and the album is wonderful. From the upbeat surf-rock vibe of "The Adventures of Jubilant John in Giggle City" to the lush instrumentation of "Red Metal Rescue," the tracks are varied and excellent. Do yourself a favor and go listen to "Balmorhea," my personal favorite - itís quiet, itís simple, itís devastating and beautiful. The album is streaming for free here.
- Zoe Cordes Selbin -





Unless otherwise expressly stated, all text in this blog and any related pages, including the blog's archives, is licensed by John Laird under a Creative Commons License.