Sunday, June 26, 2011
Time for your weekly notable news update! Below you'll find a slew of sentences meant to provide a brief glimpse of what's been going on over the past week in movieland. If something leaves you desperate for more info then my advice is to do a little extra research on one or all of the following fantastic sites: Latino Review, Dark Horizons, Ain't It Cool News, CHUD and/or JoBlo. Now, read on!


Movie News Rundown
Seth Gordon (King Of Kong: A Fistful Of Quarters) has been hired to direct a remake of WarGames.

Tom Wilkinson is said to be in talks to play a villain in The Lone Ranger.

Captain America: The First Avenger has a new trailer, and it's pretty great.

Michael Fassbender has dropped out of Trance, and James McAvoy is reportedly in line to replace him. The movie is said to follow a group of thieves who hire a hypnotist to help their injured accomplice remember where he hid a valuable painting.

Emma Stone has reportedly turned down an offer to star in Pride And Prejudice And Zombies.

The Skin I Live In looks great. Here's the teaser.

Ron Howard is said to be interested in doing a live action movie based on the 60s cartoon Spy Vs Spy.

Evangeline Lilly (Lost) has joined the cast for The Hobbit. Peter Jackson says she will play a Woodland Elf.

Alex Tse (Watchmen) has been hired to pen the Crow remake.

Action! It's the trailer for Killer Elite. Could be a fun flick.

Christopher Meloni (Law And Order: SVU) and Julia Ormond (Curious Case Of Benjamin Button) have joined the cast for Man Of Steel.

Jamie Foxx has officially landed the lead role in Quentin Tarantino's Django Unchained.

Idris Elba (Thor) has been cast in Guillermo Del Toro's Pacific Rim.

The trailer for A Dangerous Method is well done. Can't wait to see the movie.

The title of Woody Allen's next film will be Bop Decameron.

The next Fast And Furious entry has been given a release date of May 24, 2013.

Puss In Boots looks incredibly stupid, but I'm in. Check out the first trailer.

Joel Courtney (Super 8) has been cast as the lead in a new adaptation of Tom Sawyer.

Director Nicholas Winding Refn and Ryan Gosling are set to team up again (previously: Drive and Blue Valentine) for Only God Forgives. The movie is said to be about a guy who meets a retired cop and then sets out to settle things with this mother.

I love Craig Brewer, but I'm not sure about the trailer for the Footloose remake.

Warren Beatty is reportedly all set to direct and star in a currently untitled Howard Hughes biopic for Paramount.

Mark Heyman (Black Swan) has reportedly written a Facebook-based thriller titled XOXO. No word yet on a director, but Darren Aronofsky will produce.

Flypaper looks ridiculous. Here's the trailer.



Image Of The Week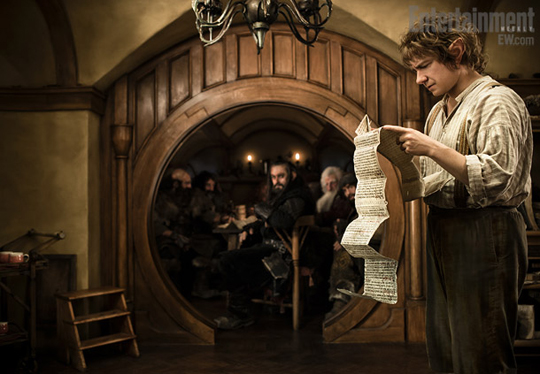 This photo of Bilbo brings me unmatched joy.
- John Laird -





Unless otherwise expressly stated, all text in this blog and any related pages, including the blog's archives, is licensed by John Laird under a Creative Commons License.