Wednesday, May 19, 2010
Well folks, it appears this will be my final post at Side One: Track One for some time. Iíll be spending the summer in Dallas working a consulting internship as part of my degree. A mere three-and-a-half hours up the road is sufficient enough to feel disconnected from the Austin music scene, so Iíll be on extended hiatus.

Brad, one half of the Austin-based blog Both Sides Of The Mouth, will be taking over my duties here at Side One. If you havenít read it before, Both Sides of the Mouth is a great source for new tunes, plus awesome illustrations (if youíve read it before, youíll know what Iím talking about). I know heíll be able to keep you up on whatís good in town while Iím out.

Thereís a likelihood that I may be venturing around to different cities during the summer. So be on the lookout for a few "Dispatches from Nowhere" if Iím able to spare a minute for local scenes around the country.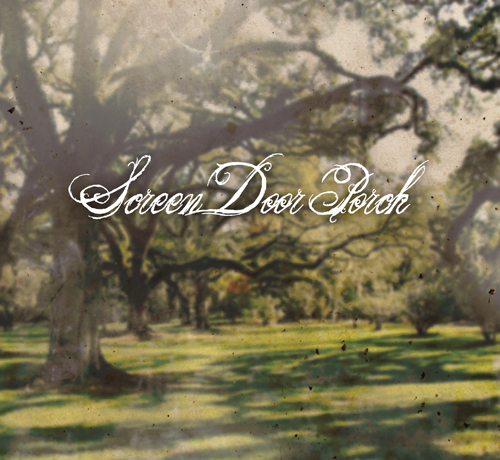 Screen Door Porch
Now that weíve got that out of the way, letís have some music. Like I said, Iíll be traveling a lot this summer (for work, and for fun), so I think a few good tunes for travel are in order. So we turn our attention to a male-female duo by the name of Screen Door Porch (if that got you thinking about Uncle Tupelo, then youíre not alone). The band is Seadar Rose (on female vox and acoustic/electric guitars) and Aaron Davis (on male vox, and just about everything else). Together the duo continue in the tradition of the rootsy Americana music they listened to growing up. Their feel for storytelling through music is, Iíve come to find out, is the kind that draws you in and spits you out some 50 minutes later, seemingly weary from a long, unpredictable adventure.

A jumpy critic could spend hours writing about the instrumentation on the album, but what gets me about this music is its beautiful craft as storytelling. Songs move with energetic consistency, rhythmically revealing one riff, one lyric at time. Yet, like time itself, each consistent moment is charged with new dynamic contrast - a plot twist, a few perfect words hitched together in metaphor, a long tone on a dominant chord. A story forms: each unique memory of the past is framed in the folk rhythm of the music. Those stories, like any indicative of the genre, subtly reveal that sublime mix of confidence and vulnerability which marks us all as human.

Cheap Ryan Adams comparisons aside, Screen Door Porch make the perfect music for the traveler. No doubt because, venturing to Austin, Texas from their home in Jackson Hole, Wyoming to record the album and play SXSW, the duo encountered enough travel stories to fill more than 12 songs. My best bet is that Iíll be listening to them while looking out windows on far flights across Poland and the American Midwest, on sleepy car rides through small towns in Texas or while simply walking up the street to visit a good friend. Thatís not a critical perspective, itís a personal one.

:Screen Door Porch - Wrong The Right:

One final song for the road, one that seems a good fit with Screen Door Porch (it was recorded in Austin, after all), and one that Iíve inevitably listened to traveling across the world: Uncle Tupeloís New Madrid. Thanks for reading. Safe travels.

:Uncle Tupelo - New Madrid:
John Michael Cassetta keeps his own blog, Big Diction, and writes for the local website Austin Sound. Comments, complaints, and solicitations may be directed here.
- John Michael Cassetta -





Unless otherwise expressly stated, all text in this blog and any related pages, including the blog's archives, is licensed by John Laird under a Creative Commons License.