Wednesday, May 12, 2010
Itís Hump Day! And what better way to celebrate than with a happy hour and some great live music? Tonight at the Mohawk is the latest edition of the Mind Of Adi series. This weekís event features The Hi-Tones, The White Hotel, and Royal Forest.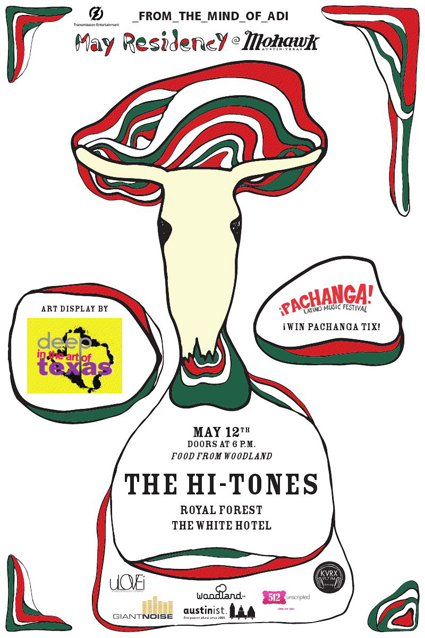 You may know Royal Forest by their former name, Loxsly. The band switched monikers in part because people often mistook them for a band with a similar name (Locksley). The name change also signifies a musical shift for the group. Past releases from the band can be described as electronic dream pop. Or, if you will, they basically resembled Grandaddy but with more brains, keyboards, and steel guitar. However, with release of their new self-titled EP, Royal Forest has dialed up the rock.

The EPís first song is Civilwarland and itís fantastic. The big guitar riffs are great, but itís the pounding drums and swirling keyboards that really make the whole thing work. Another notable track is Anagrams, a psychedelic pop jewel that people have come to expect from the band.

:Royal Forest - Civilwarland:

You can check out the entire EP for free, and you should. I think itís another strong effort from a band that gets better and better with each release.

:Royal Forest - Anagrams:

Loxsly - Lamprey Eels
By the way, if youíre unable to catch Royal Forest tonight at Mohawk, theyíll be playing at Lambertís on Friday, May 21 with Whiskey Priest and EP Hall.
Dan Corbin also writes for a blog called DC Rock Club. If you would like to contact him in regards to his writings here at Side One: Track One then please do so here.
- Dan Corbin -





Unless otherwise expressly stated, all text in this blog and any related pages, including the blog's archives, is licensed by John Laird under a Creative Commons License.