Wednesday, March 3, 2010
Crooks is Josh Mazour on guitar and vocals, Rob Bacak on drums, and Sam Alberts playing everything else (trumpet, guitar, banjo, etc.). I first saw them at the Mohawk's inside stage early last year. I actually don't even remember which band I originally went to see. The only thing I recall is Crooks stealing the show.

Normally, I'm not even a huge fan of country music unless it's Western Swing or Outlaw County, both of which are obviously pretty specific genres. Crooks, fortunately for me, essentially falls into the latter category. They incorporate a little of what I call Forest Rock (others may call it indie folk) along with some blues and a slew of other things that make them a true Texas band. Also, and this may be the best part, Crooks are probably the only band you'll find on Red River playing any sort of variation of outlaw country.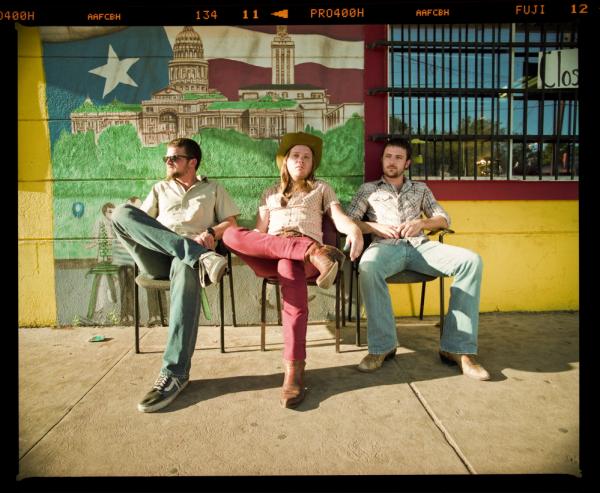 The song that got me hooked on Crooks was My First, which has a steady strum reminiscent of He War by Cat Power. What really makes it work though is the trumpet. I love how it soars throughout and gives the song a dramatic quality. Listen to it and you can just picture a saloon, whisky, and a good old fashioned bar fight. Or, if you're feeling dangerous, an old Western town where two gun slingers are in the middle of a Mexican standoff.

:Crooks - My First:

By the way, I read this was the first song that they wrote as a band. When a song like that is your starting point, you know you've got something special. Hank Williams and Johnny Cash would be proud.

Catch Crooks this Sunday at the Mohawk as they complete their west coast tour with Western Ghost House (Woodsboss is also on the bill). If you miss that show you can also catch them as they play with The Golden Boys at Stubb's Jr. as part the WOXY Local Residency Series.

:Crooks - Give Me Good Reason:


Dan Corbin also writes for a blog called DC Rock Club. If you would like to contact him in regards to his writings here at Side One: Track One then please do so here.
- Dan Corbin -





Unless otherwise expressly stated, all text in this blog and any related pages, including the blog's archives, is licensed by John Laird under a Creative Commons License.