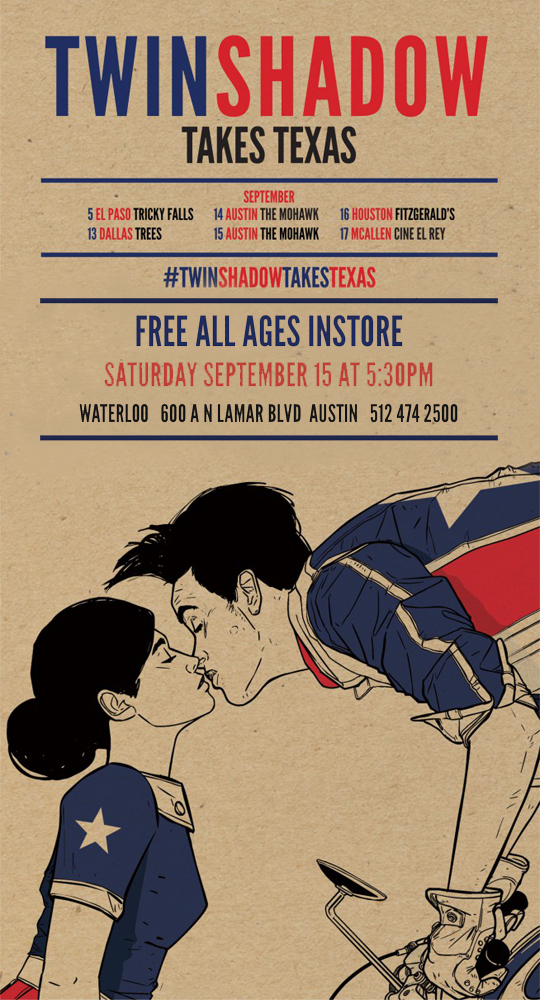 Twin Shadow is in the midst of taking over Texas, and I think it's pretty fantastic.  They could have easily strolled through the state, played some shows, sold some copies of the stellar Confess, and then split, but instead the "Twin Shadow Takes Texas" theme has been launched, and there's plenty of fun to be had.
Below you'll find streams of the two songs that will be physically available via a 7″ that's only being sold at the Texas stops.  Give them a listen, and then get on with buying the few tickets that remain for the Houston and McAllen dates.
PS – If you happen to miss out on both of the Austin shows, Twin Shadow will be doing an in-store performance at Waterloo Records at 5:30pm today.  Be there!
:Twin Shadow – Five Seconds:
"Some of our greatest shows in the states have been down in Texas. My favorite thing about it is that you drive long and hard to get to these places, and just beyond the constant van refuels, the violent scribblings on bathroom stall doors, the tumble weeds and scary small town authorities, are adoring fans, who just give you a lot of love. This is my way of saying thanks!" – George Lewis Jr.