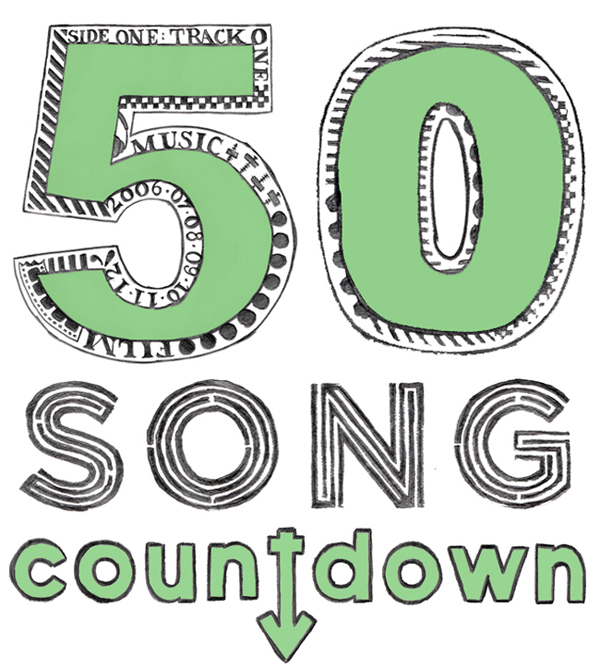 50)  :White Wires – All Night Long:  Every time I hear this pop punk gem I have to listen to the rest of their album, which is full of songs that are just as catchy.  From WWIII.
49)  :The Corin Tucker Band – Groundhog Day:  You could try to find a better voice than Corin's, but you'd just fail miserably.  The girl can wail like no other, and I'm happy she's been staying busy post-Sleater Kinney.  From Kill My Blues.
48)  :Bryan Scary – Ziegfield Station:  This band has long been a wonder when it comes to one-off singles that I can't get out my head, and they kept that streak rolling in 2012 with this retro-rock track.  From Daffy's Elixir.
47)  :Dirty Ghosts – Ropes That Way:  There was a span of about two months where I couldn't escape this song from Dirty Ghosts.  It has such a high level of energy that it just sucks up all your attention.  From Metal Moon.
46)  :Desaparecidos – MariKKKopa:  I love that this band was able to come roaring back.  Who would have thought that Conor Oberst still had some ferocity in him?  From the MariKKKopa/Backsell 7″.
45)  :Yuck – Chew:  I may not have gotten a new album from the awesome Yuck in 2012, but I did get this fantastic one-off single.  Toss on headphones to catch all of the rather nice guitar work.
44)  :Deep Time – Clouds:  This Austin-based act (formerly known as Yellow Fever) really caught my attention with this quirky pop tune.  Not sure they've ever done anything catchier.  From Deep Time.
43)  :Black Bananas – Rad Times:  There's far too much going on in this track, but I dig it anyway since it's one of those efforts that's just endlessly entertaining.  From Rad Times Express IV.
42)  :Maps And Atlases – Fever:  This song always manages to slap a smile on my face.  I love how upbeat and fresh it sounds.  From Beware And Be Grateful.
41)  :Miike Snow – Paddling Out:  I've never been much of a Miike Snow fan, but I've been overly attached to this track since sharing it back in January.  Watch out, as it'll instantly make you want to dance.  From Happy To You.
40)  :Passion Pit – I'll Be Alright:  I'm still not sure what Passion Pit were aiming for on their sophomore effort, but I dig this track a lot.  I think it shows how adventurous their sound can be.  From Gossamer.
39)  :Why? – Sod In The Seed:  Just when I thought that Yoni Wolf was done with his collage-like rambles, he provided nearly five minutes of lyric-heavy joy via this song.  That guy has a wonderful brain.  From the Sod In The Seed EP.
38)  :Beach House – Myth:  I don't know how many times I've listened to this song just to listen to it.  Not much else in 2012 was as well crafted as this.  From Bloom.
37)  :Dana Falconberry – Lake Charlevoix:  I've long supported Austin's Dana Falconberry, but this song put her on a different level for me.  Folk music is often not overly accessible, but it is when she does it.  From Leelanau.
36)  :Alabama Shakes – Hold On:  The year began with nothing but buzz for this band, and somehow it all actually ended up being warranted.  Way to go, taste-makers.  This song is an outright jam.  From Boys & Girls.
35)  :Dirty Projectors – Gun Has No Trigger:  I love that the Dirty Projectors just do whatever they please.  How many other bands could release such a challenging single and actually have it go well for them?  From Swing Lo Magellan.
34)  :Bobby Womack – Please Forgive Me Heart:  Bobby's soulful voice thrown over a modern electronic arrangement?  Such a thing seems like it should be all wrong, but then there's this gem screaming otherwise.  From The Bravest Man In The Universe.
33)  :Jack White – Love Interruption:  It was nice of Jack to finally go solo, and it was even nicer of him to make his first single such a quality piece of modern rock.  From Blunderbuss.
32)  :Social Studies – Terracur:  Social Studies was always one of those acts that I knew about and liked, but didn't love.  This inspired tune changed that.  Forever.  From Developer.
31)  :The Tallest Man On Earth – 1904:  Kristian Matsson is a fantastic songwriter, and this inviting number is just further proof of that.  It's only a matter of time before I just hang out with him all the time on a mountain.  From There's No Leaving Now.
30)  :Lace Curtains – Bedroom Honesty:  For a song that sounds so wonderfully casual and inviting, it's brutally upfront about quite a few things.  I love it.  From The Garden Of Joy And The Well Of Loneliness.
29)  :Three Mile Pilot – Long Way Up:  It doesn't seem plausible for a band to take a decade-long break and then come back as good as ever, but 3MP are currently in the middle of doing just that.  For proof, give this indie rock effort a listen.  From the Maps EP.
28)  :Ceremony – Hysteria:  There isn't anything about this punch to the soul that doesn't make me want to set something on fire, and I appreciate that greatly.  From Zoo.
27)  :FIDLAR – Got No Money:  These guys have so many rad songs that make me want to thrash around, and yet it was this catchy little pop number that I couldn't escape all year.  Variety is good, friends.  From the Don't Try EP.
26)  :Yellow Ostrich – Marathon Runner:  Vocal loops, a good chorus, and just the right amount of rock – that's the Yellow Ostrich formula, and in songs like this one, it works very well.  From Strange Land.
25)  :Rubblebucket – Oooh Wa:  This band's name makes them sound like some sort of wild punk outfit, but as you'll see in this shimmering track, they're actually a really good indie pop act.  From the Oversaturated EP.
24)  :Felix – Oh Thee 73:  Listening to this duo snark their way through this intricate number has been one of my favorite parts of 2012.  From Oh Holy Motar.
23)  :How To Dress Well – & It Was U:  90s R&B isn't something I can claim as my thing, but if it's coming from How To Dress Well?  Well, then that is entirely me.  I wish I had a good dance move for whenever this comes on.  From Total Loss.
22)  :Reptar – Sebastian:  Reptar are a bizarre ray of sunshine for me.  The vocals live out in left field, but the music is gloriously upbeat.  I've been singing this one all year.  From Body Faucet.
21)  :Dan Deacon – Lots:  My favorite thing about Dan Deacon is that even if you can't figure out what the hell he's trying to do, he has songs like this one that you get into simply because they're so kinetic.  If I ran, I'd totally run to this.  From America.
20)  :MIA – Bad Girls:  This single was supposed to be from a new album, but that has yet to materialize.  Oh well.  For now it simply serves as a nice reminder of how great MIA is when she's having fun and not taking herself too seriously.
19)  :Action Bronson – A Simple Man:  I had a long list of Action Bronson songs to choose from for this spot, but I went with this one-off single because it's what originally made me want to champion the guy.  It's just stellar stuff.
18)  :Sky Ferreira – Everything Is Embarrassing:  I don't know how many times I listened to this in 2012.  I just couldn't seem to get it out of the part of my soul that wants to dance in a dark corner somewhere.  From the Ghost EP.
17)  :The Eastern Sea – Wasn't For Love:  With this song, The Eastern Sea went from just being an Austin favorite of mine to being something much bigger and better.  Glad I hopped on the bandwagon early.  From Plague.
16)  :Dan Friel – Valedictorian:  For those that don't know, Dan is the former frontman of Parts & Labor.  This song sees him being as noisy and wild as can be, and I'm not sure I'll ever tire of it.  From Total Folklore (due in 2013).
15)  :Chvrches – The Mother We Share:  I've yet to come across anything else from this band, and that's OK because I'm far from being done with this Purity Ring meets Cults combo of a single.
14)  :Yeasayer – Longevity:  My love for Yeasayer has always been in regards to their live show, so I was a little surprised to find myself so attached to one of their studio tracks.  I greatly dig the off-balance mix here.  From Fragrant World.
13)  :Fiona Apple – Every Single Night:  You have to appreciate that Fiona keeps coming up with ways to stay interesting.  This pop effort pulls no punches.  From The Idler Wheel.
12)  :POS – Fuck Your Stuff:  This is exactly what I always expect POS to deliver – it's aggressive, playful, and smart.  From We Don't Even Live Here.
11)  :San Cisco – Awkward:  I love this indie pop tune, but I do have to admit that I'm not so sure a song about stalking should be this enjoyable.  From the Awkward EP.
10)  :Icona Pop – I Love It:  Much of my 2012 was spent looking to this electropop number for a burst of fun.  I just kind of adore how obnoxious it is.  From the Nights Like This EP.
09)  :Japandroids – The House That Heaven Built:  I think it's safe to say that with this song, Japandroids are now officially the band everyone looks to when they're in need of an anthem.  From Celebration Rock.
08)  :David Byrne And St. Vincent – Who:  This track is focused pop madness, and to be honest, that's exactly what I was hoping the David Byrne/St. Vincent collaboration would unleash onto the world.  From Love This Giant.
07)  :Ellie Goulding – High For This (The Weeknd Cover):  Every year there's a cover that I can't get enough of, and in 2012 it was Ellie's sensual take on this Weeknd track.  I highly recommend headphones.  And booze.
06)  :TV Girl – I Wonder Who She's Kissing Now:  There's going to come a year where I don't get an incredibly catchy and charming retro pop track from TV Girl, and then I'll immediately become cranky and constantly reference the "good old days."  From The Wild, The Innocent, The TV Shuffle.
05)  :Tame Impala – Elephant:  Of the 50 songs on this list, this is my favorite to try and ruin my speakers with.  It's actually flaunting some attitude, which is something I didn't think Tame Impala had in them.  From Lonerism.
04)  :MS MR – Hurricane:  2012 featured a ton of good music that was 90s-enthused, so you know it means something when I say that I found this MS MR song to be the best of the bunch.  From the Candy Bar Creep Show EP.
03)  :Dum Dum Girls – Lord Knows:  This band is so very good, and it's all because Dee Dee continues to be one of the best songwriters around.  Just listen to the lyrics in this incredible song for proof.  From the End Of Daze EP.
02)  :Twin Shadow – Five Seconds:  I wanted to not use the word "infectious" anywhere in this list, but that's just exactly what this 80s throwback is.  Good luck trying to ever escape its grasp.  From Confess.
01)  :Purity Ring – Fineshrine:  When I sat down to map out this year's 50 songs, I already knew what would be in this spot.  That's actually never happened before, and I give all the credit to Purity Ring, who created a song that's as fantastic as can be on all fronts.  I will love this track forever.  From Shrines.