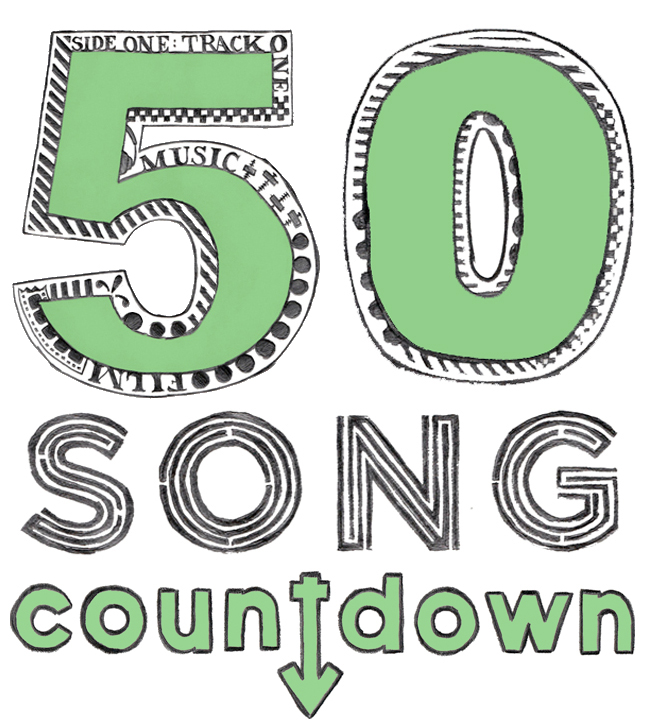 Here's the whole list!  Enjoy.
PS – Just a heads up, I didn't include any Austin acts in this singles list.  I'm going to be doing a two-part year-ender via 101X Homegrown (my radio show) that will detail my favorite Austin tracks.  Look for Part 1 to air on 12/11, and then Part 2 on 12/18.
PS – I got a ton of take down notices, so you'll have to listen via Spotify.
50)  :Sia – Waving Goodbye (Produced by Diplo):  When I saw (and loved) The Neon Demon, I found myself really digging this anthemic number as it blasted over the credits.  Oddly enough, I didn't even realize it was by Sia until I got home and looked it up.
49)  :Big Baby D.R.A.M. – Cute:  This is such a silly song by D.R.A.M., but it's so damn catchy that I've been unable to escape it for most of 2016.  Just let it take you.
48)  :Polica – Lately:  If you ask me, this is the best song off of Polica's latest album, United Crushers.  It's hazy and sparse and the line "seems like we're too comfortable in love" is a sharp one.
47)  :Father John Misty – Real Love Baby:  Whether you've ever fully boarded the Father John Misty hype train or not, it's hard to deny just how charming this track is on all fronts.
46)  :Pity Sex – Bonhomie:  The boy/girl vocals in this Pity Sex track are so on point.  As is the 90s-lean it carries.  And well, everything else about it.
45)  :Screaming Females – Skeleton:  I sure do love me some Screaming Females.  This track was rightfully cut from 2015′s Rose Mountain, but I'm glad to have it now – it's unhinged and great.
44)  :LVL UP – Hidden Driver:  You could criticize this LVL UP effort as being too Neutral Milk Hotel-esque, but that would be silly.  It's just a great song.  Turn it up.
43)  :Forth Wanderers – Slop:  This one from Forth Wanderers has a meandering arrangement and lyrics loaded with obviously-youthful musings – "I love too much/Too hurt this bad" – but I dig it.
42)  :Frightened Rabbit – Death Dream:  I loved Frightened Rabbit, then I veered away, and now this song has brought me back to them.  That's how stellar it is.
41)  :The Blow – Think About Me:  There's an early-era Rilo Kiley vibe on display here that I've been caught up since I first heard this song.  Thanks for that, The Blow.
40)  :The xx – On Hold:  I know this track from The xx is only a few weeks old, but I've been obsessed with it and I just had to include it on my year-list.  It's intoxicating.
39)  :Charli XCX – Vroom Vroom:  Charli XCX cranked this out in conjunction with Sophie, and it's just the most goddamn ridiculous thing.  Please be sure to listen to it as loud as possible.
38)  :Tobacco – Gods in Heat:  I've had this Tobacco song on repeat for months.  It's fairly weird and oddly sexy (it is called Gods in Heat, after all), and I just love it.
37)  :Chaos Emeralds – Animal Kingdom:  I'm not sure why this song from Chaos Emeralds isn't all over the radio.  Talk about accessible and catchy.
36)  :Thao And The Get Down Stay Down – Nobody Dies:  Here's one from Thao that I revisited a lot this year.  It's an attention-grabber.
35)  :Bleached – Keep on Keepin' On:  This song from Bleached really makes me want to get up and move and because of this it's what I'm going to hit play on if someone ever starts chasing me.
34)  :The Julie Ruin – I Decide:  If you ask me, this is the best track off of The Julie Ruin's 2016 release, Hit Reset.  On another note, Kathleen Hanna's voice is still rad.
33)  :Phantogram – Cruel World:  Phantogram went for (and achieved) bigger and better things in 2016, but this track sounds like the old them and it's what stuck with me.  Go figure.
32)  :The Range – Florida:  The Range really nailed it here.  I advise that you slap on headphones before you hit play.
31)  :Sheer Mag – Can't Stop Fighting:  I'm starting to feel like it's no longer possible for me to do a year-end song list that doesn't include Sheer Mag.  Here's hoping they keep on killing it.
30)  :Mystery Lights – Follow Me Home:  Daptone launched a rock imprint – WICK – in 2016, and this Mystery Lights single was its first release.  I dig how loud and sloppy it is.
29)  :Weaves – Coo Coo:  If you like things that are clever and quirky, then this song from Weaves will delight you.
28)  :Twin Peaks – Walk To The One You Love:  This might be my favorite Twin Peaks track.  It's such a breezy slice of garage pop.
27)  :Frankie Cosmos – On The Lips:  I'm all about Greta Kline (aka Frankie Cosmos) and her rather sincere voice here.  Also, I appreciate that this song mentions David Blaine.
26)  :The Tallest Man On Earth – Time Of The Blue:  Kristian Matsson (aka The Tallest Man On Earth) cut this late one night while out on the road.  I think it's one of his better songs.
25)  :Field Mouse – The Mirror:  Mostly 90s, sort of emo, entirely great.  That's probably the best way to describe this one from Field Mouse.
24)  :The Hotelier – Piano Player:  The Hotelier offer up a lot of song here (roughly six swirling minutes worth), but thankfully it's a great ride that's totally worth the time and attention it requires.
23)  :Tancred – Control Me:  Here's one of my favorite 90s-inspired tracks of 2016.  It's just about perfect.  Good work, Tancred.
22)  :LIV – Wings of Love:  This is a fantastic Fleetwood Mac-like effort from LIV, a "supergroup" that features Lykke Li, Miike Snow's Andrew Wyatt and Pontus Winnberg, Peter Bjorn & John's Björn Yttling and producer Jeff Bhasker.
21)  :Priests – JJ:  Frontwoman Katie Alice Greer destroys in this Priests track.  That voice of hers is just so very rad.
20)  :Thee Oh Seees – Plastic Plant:  Out of all the music that Thee Oh Sees released in 2016 (two albums worth, to be exact), this track is my favorite.  Total jam.
19)  :King Khan – Never Hold On:  The normally noisy King Khan contributed this gem to the soundtrack for The Invaders.  He should do more slow burners.
18)  :Hazel English – Make It Better:  Here's one that I've been glued to since I first heart it.  There's just something hypnotic about Hazel English.
17)  :Chook Race – Sometimes:  If you're all about jangly pop, then this one from Chook Race is a must-listen for you.
16)  :Tangerine – Sunset:  This infectious pop tune from Tangerine is totally something that more people should have been yammering about in 2016.
15)  :Terry Malts – Used To Be:  I've jammed the hell out of this Terry Malts song.  Those guys sure know how to write a hook.
14)  :Lucy Dacus – I Don't Wanna Be Funny Anymore:  I believe this one from Lucy Dacus was actually put out in late 2015, but I didn't catch it until the re-release this year.  So it counts!  Anyhow, it's a stellar track that drips with sincerity.
13)  :Car Seat Headrest – Does It Feel Good (To Say Goodbye):  This song by Car Seat Headrest is from the soundtrack for a short film called Loudini.  It makes me want so sit on a porch somewhere with a bottle of whiskey.
12)  :Nothing – ACD (Abscessive Compulsive Disorder):  If you still need to get in some quality shoegazing before 2016 fully comes to a close, I highly recommend doing it with this Nothing song blasting in your headphones.
11)  :Fujiya And Miyagi – Serotonin Rushes:  You're dead if you can listen to this Fujiya And Miyagi track and not want to dance or at least smile.
10)  :P.O.S. – Wave (Featuring Moncelas Boston And Sophia Eris):  P.O.S. didn't put out an album this year, but he did release a handful of singles.  This slick-sounding effort finished the year as my favorite of the bunch.
09)  :White Lung – Kiss Me When I Bleed:  White Lung's Mish Barber-Way commands all with her vocal work in this heavy track that aims to pummel.  Turn it up.
08)  :Chance The Rapper – Angels (Featuring Saba):  Chance The Rapper and Saba are as pleasant as can be in this joyous track – it's infectious stuff.
07)  :Whitney – Golden Days:  This song from Whitney was a big go-to for me every time I needed a breather in 2016.  It's so damn accessible and laid back.
06)  :Coathangers – Squeeki Tiki:  Admittedly, a part of me couldn't pass up the opportunity to put a squeaky toy-enhanced track in the top 10 of my year-end song list.  Also, it's scuzzy and creative and perfect and deserving of everyone's love.  Thanks for the jam, Coathangers!
05)  :Shura – What's It Gonna Be?:  This one from Shura is easily my favorite straight up pop tune of 2016.  It may also be the winner of this year's "song that John poorly sang-a-long to the most" award.
04)  :Cymbals Eat Guitars – Have a Heart:  If I were to rank out every Cymbals Eat Guitars song, I'd be tempted to put this one in the top spot.  What a track.
03)  :Frank Ocean – Solo:  This is one seriously hypnotic effort from Frank Ocean.  That fella is a hell of a crooner.
02)  :Angel Olsen – Shut Up Kiss Me:  Every time I hear this song I just want to high five Angel Olsen and go rollerskating.  I love the way she pulls no punches here.
01)  :Kanye West – Ultralight Beam:  Is this song absolutely ridiculous?  Yes.  I mean, it's Kanye West, so of course it's ridiculous.  It also happens to be amazing though, and I love it.  Definitely the song I blasted the most in 2016 … probably because it was the most ridiculous year ever and I needed the right song to accompany me through it.