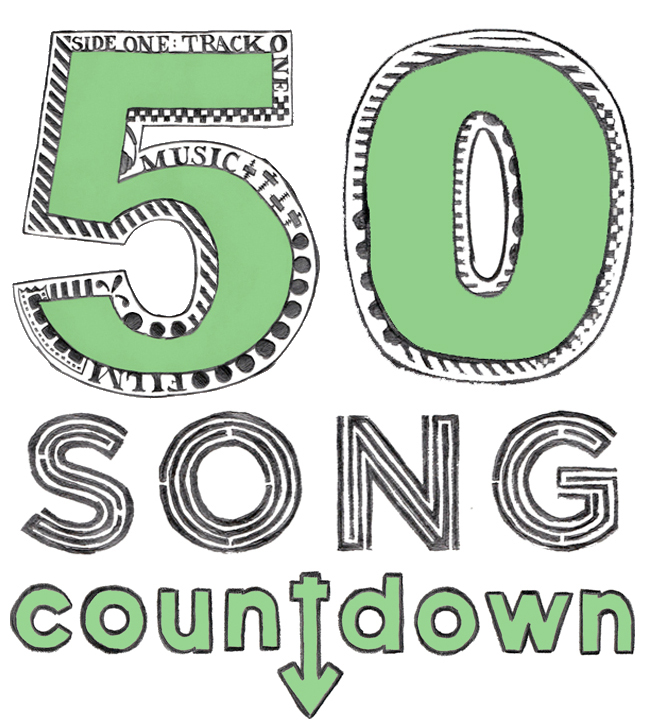 Here's the entire Top 50 Songs of 2015 list on one page!  Enjoy.
PS – You can get the majority of this list (47/50 tracks) on Spotify right here.
50)  :Carly Rae Jepsen – Let's Get Lost:  I officially boarded CRJ's bandwagon this year.  Her latest is LP is pretty damn fun, and I think this is the best song off of it.  You're legit stone cold if you can listen to it and not want to dance.  From Emotion.
49)  :Icky Blossoms – In Folds:  I was all about this driving, synth-filled track from Icky Blossoms before I even finished listening to it for the first time.  It's an all-around stellar sounding song that just dominates the room.  From Mask.
48)  :Death Cab For Cutie – The Ghosts Of Beverly Drive:  This is the first Death Cab For Cutie single in a very long time that's stuck with me.  Probably because it moves well and the band actually sounds awake in it.  From Kintsugi.
47)  :Albert Hammond Jr. – Born Slippy:  It's nice that the Strokes are still working together, but I'd be fine if they called it quits and guitarist Albert Hammond Jr. just went about churning out more solo albums.  As shown here, the guy really knows how to write an inviting pop tune.  From Momentary Masters.
46)  :The Suffers – Make Some Room:  Houston's The Suffers really took off this year, and I'm so very happy for them.  As for this track, I think it's one of 2015′s most endearing efforts.  From the Make Some Room EP.
45)  :Sweet Spirit – Babydoll:  I've been watching locals Sweet Spirit play this live for a long while, so I love that a recorded version finally came along.  It's definitely one of those songs that I find stuck in my head seemingly all of the time.  From the band's self titled EP.
44)  :Jeff The Brotherhood – Black Cherry Pie:  This song from Jeff The Brotherhood features a goddamn flute solo by Ian Anderson (of Jethro Tull fame) and has a chorus that mentions wanting to stab someone in the eye.  Those two things alone should warrant its placement on anyone's year-end list.  From Wasted On The Dream.
43)  :Desaparecidos – City On The Hill:  The Conor Oberst that fronts Desaparecidos is my favorite Conor Oberst.  I think his emo-y voice is best used in tracks like one, which is an anthemic scorcher.  From Payola.
42)  :Dan Friel – Rattler:  Dan Friel is a master at twiddling knobs (not a euphemism).  I frequently put this inspired tune on whenever I need to rally up for something.  From Life.
41)  :jj – Truce:  The immense amount of attitude that's all throughout this jj song has entertained me for much of 2015.  The whole thing is just ridiculous (and fun).  From Truce.
40)  :Big Grams – Fell In The Sun:  Just in case you've been off on an adventure, Big Boi + Phantogram = Big Grams.  Both are equally great here in this sparkly ear worm of a song.  From the act's self titled album.
39)  :Kiiara – Feels:  I came across Kiiara over the summer and instantly became a fan.  This song is super hooky and wonderfully dramatic.  From the land of one-off tracks.
38)  :Ringo Deathstarr – Guilt:  This one from Austin's own Ringo Deathstarr is a big, catchy wave of distortion.  Only listen to it with the volume cranked up high.  From Pure Mood.
37)  :Torres – Special (Garbage Cover):  I'm not even sure how many times I've gotten lost in this spacious, six-minute cover of Garbage's Special.  Torres (aka Mackenzie Scott) really took the song and made it her own.  From the land of one-off tracks.
36)  :Car Seat Headrest – Something Soon:  Car Seat Headrest signed to Matador this year, and then promptly remastered and re-released some older material.  So, technically, this song is only partially from 2015.  Regardless, I think it's a very inspired tune and I love the angsty lyrics – "I want to sing this song like I'm dying."  From Teens Of Style.
35)  :Deerhunter – Snakeskin:  It still flips my brain around whenever I remember that the sometimes proggy, sometimes noisy rockers Deerhunter put out this funky, accessible number.  Who knew they had it in them?  From Fading Frontier.
34)  :Bully – I Remember:  This little two-minuter from Bully just rips.  I think singer Alicia Bognanno sounds like a less obnoxious version of Courtney Love (the 90s version, not the currently burned out one).  From Feels Like.
33)  :Lee Bains III And The Glory Fires – Sweet Disorder!:  I'm pretty sure I could toss this on a mixtape of nothing but classic rock tunes and no one would catch it as being from the year 2015.  On another note, Lee Bains III And The Glory Fires is a great name.  From the Sweet Disorder 7″.
32)  :Mikal Cronin – Made My Mind Up:  Another year, another charming pop song from Mikal Cronin that I can't seem to get enough of.  He completes me.  From MCIII.
31)  :Diane Coffee – Everyday:  Shaun Fleming (Foxygen's drummer) is the main brain behind Diane Coffee.  This track is as soulful and retro as can be. From Everybody's A Good Dog.
30)  :Chvrches – Never Ending Circles:  This is such an infectious song.  Here's hoping that Chvrches never ditch their anthemic pop routine.  From Every Open Eye.
29)  :Mas Ysa – Look Up:  I love me some Mas Ysa (aka Thomas Arsenault).  You should slap on some headphones for this ambitious track, which features big vocals and a wonderfully textured arrangement.  From Seraph.
28)  :Julien Baker – Sprained Ankle:  If you like your music to feel as sincere as possible, then look no further than this Julien Baker song.  Her voice here cuts right through me.  From Sprained Ankle.
27)  :Kurt Vile – Pretty Pimpin:  Kurt Vile is such a great songwriter, and he shows it all throughout this silly, but really clever track.  From B'lieve I'm Goin' Down.
26)  :Yung – Blue Uniforms:  I'm all about noisy, shoegaze-esque indie rock, and this Yung song is six and a half glorious minutes of it.  Had to put it on my list!  From the These Thoughts Are Like Mandatory Chores EP.
25)  :Protomartyr – Why Does It Shake?:  This Protomartyr track is not exactly an easy listen, but it's totally worth the attention it requires.  Hit play, dial in and get rewarded.  From The Agent.
24)  :Amen Dunes – Song To The Siren (Tim Buckely/This Mortal Coil Cover):  Amen Dunes covered a cover (The Mortal Coil –> Tim Buckley) here, and I just really dig the way it came out.  Be warned, you'll want whiskey about midway through this.  From Cowboy Worship.
23)  :Girlpool – Before The World Was Big:  Growing up is hard!  This Girlpool song makes me feel nostalgic (not sad, thankfully) about life before adulthood rolled in and took over.  From Before The World Was Big.
22)  :Fred Thomas – Bad Blood:  Fred Thomas and the definition of word vomit go hand in hand in this track, but that's fine.  If only because the numerous things bouncing around in his head are all interesting and/or relatable.  From All Are Saved.
21)  :Black Milk – I Guess:  This is just an all-out, good time sort of effort by Black Milk.  He will always be one of my favorite voices in hip hop.  From the land of one-off tracks.
20)  :FIDLAR – 40oz. On Repeat:  There's a pretty solid chance that this FIDLAR track is the year's most relatable song.  Now, let's have drink some alcohol, it'll make us who we really want to be.  From Too.
19)  :Screaming Females – Criminal Image:  This is one of my favorite Screaming Females tunes.  It's got a big, meaty riff and frontwoman Marissa Paternoster sounds indestructible.  From Rose Mountain.
18)  :Modest Mouse – Lampshades On Fire:  Out of all the quality songs on Modest Mouse's latest album, this one is my favorite.  For whatever reason, I dig that it essentially sounds like Dashboard: Part 2.  From Strangers To Ourselves.
17)  :Conner Youngblood – Stockholm:  This track from Conner Youngblood is hypnotizing.  You just have to love the way he uses the harp here.  From The Generation Of Lift EP.
16)  :Leon Bridges – River:  Leon Bridges absolutely blew up this year, and I like to think it was largely because of this stunning slow burner.  What a song.  From Coming Home.
15)  :Bop English – Dani's Blues (It Was Beyond Our Control):  James Petralli (of White Denim fame) is Bop English.  There's a playful, retro pop sound on display here that's really great.  From Constant Bop.
14)  :Diet Cig – Harvard:  Diet Cig's front-lady Alex Luciano is in full-on bitter mode throughout this track, and it's fantastic.  I hope she never loses that sarcastic edge of hers.  From the Over Easy EP.
13)  :Titus Andronicus – Dimed Out:  Whenever I want to jump around like a madman in my living room, I put on this sloppy jam from Titus Andronicus.  It's such a raucous good time.  From The Most Lamentable Tragedy.
12)  :Mos Def – Sensei On The Block (Featuring Ski Beatz):  This song is vintage Mos Def (in the best of ways), and it totally makes me yearn for his pre-Yasiin Bey days.  From the land of one-off tracks.
11)  :Purity Ring – Push Pull:  I'm still not entirely sure how I feel about Purity Ring's sophomore album – some of it works for me, some of it doesn't.  This beautiful number is definitely the best track on it.  From Another Eternity.
10)  :Chairlift – Ch-Ching:  I never would have guessed that Chairlift had something this edgy in them.  I hope there's more of the same to come.  From the land of one-off tracks (though I assume it'll pop up on an album next year).
09)  :Tame Impala – Let It Happen:  This is such a sprawling, wonderful number from Tame Impala.  If I were to rank out all of their songs, I'd put this somewhere near the top.  From Currents.
08)  :Ratatat – Cream On Chrome:  While I've been a fan of Ratatat for a long time, this is the first song of theirs that I've truly been crazy about.  It's so very groovy.  From Magnifique.
07)  :Annabel – Having It All:  Earlier in the year my care-level in regards to the resurgence of emo was roughly a 6/10. This Annabel track is what shoved it to 10/10.  It's just about perfect.  From Having It All.
06)  :Speedy Ortiz – Raising The Skate:  When I ran into front-lady Sadie Dupuis at Fun Fun Fun Fest I had the urge to nervously ramble about how much I love this track and how I think it's Speedy Ortiz's most complete sounding effort, but instead I just played it cool and helped her find the bathroom.  Nailed it!  From Foil Deer.
05)  :Sheer Mag – Button Up:  This fuzzy, Thin Lizzy-esque song from Sheer Mag is just about as infectious as it gets.  I blame Christina Halladay's rad voice.  And the rad guitar riffs.  And all the other rad bits, too.  From the II 7″.
04)  :Built To Spill – Living Zoo:  I don't remember the last time that Built To Spill sounded so inspired.  The build-up at the beginning of this is something I'll never tire of.  From Untethered Moon.
03)  :Ought – Beautiful Blue Sky:  Yes, there's a strong Talking Heads vibe at play here.  Yes, this song is rather pretentious.  Regardless, not much else has captivated me quite like it has over the course of numerous listens.  Good work, Ought.  From Sun Coming Down.
02)  :Kendrick Lamar – Alright:  If I were to sort this list based on "times played" then it's likely that this hope-themed track would have landed at #1.  It's one of Kendrick Lamar's best. From To Pimp A Butterfly.
01)  :Courtney Barnett – Pedestrian At Best:  I like that most artists these days feel lifted out of the 90s, but it's probably time for everyone to shift gears.  This Courtney Barnett song is as good as that throwback sound is going to get.  Even the video is 90s perfect.  Also, I think "Put me on a pedestal, and I'll only disappoint you" might be one of my favorite lines ever.  From Sometimes I Sit And Think, And Sometimes I Just Sit.