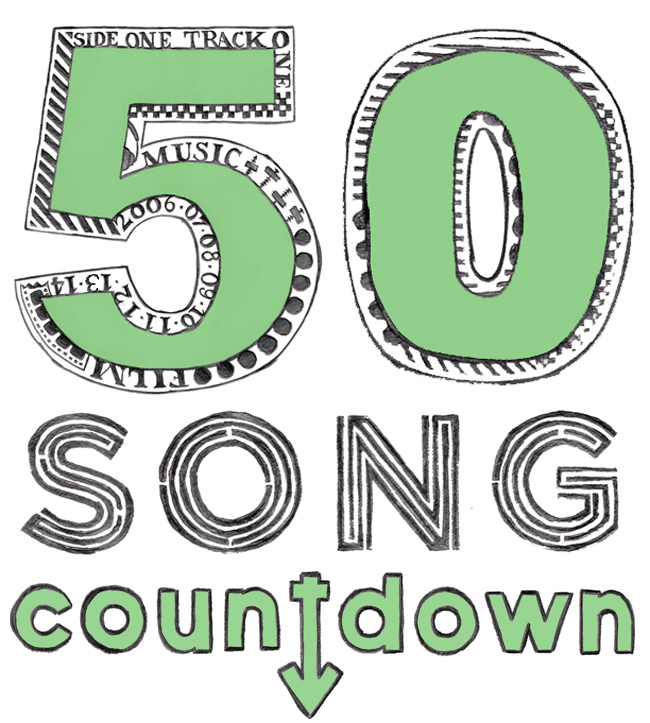 Here's the entire Top 50 Songs of 2014 list on one page!  Enjoy.
50)  :Lana Del Rey – West Coast:  Yeah yeah, I know, Lana Del Rey has big lips and no one (publicly) likes her, but I don't care, this Dan Auerbach-produced track is great.  Total smokey, moody goodness.  From Ultaviolence.
49)  :Slow Magic – Hold Still:  This one from Slow Magic features what's probably my favorite "wait for it" moment of 2014.  If the final 30 seconds don't make you want to move, then you might be dead.  From How To Run Away.
48)  :Joanna Gruesome – Psykick Espionage:  Noisy and infectious.  That's definitely the best way to describe this track from the one and only Joanna Gruesome.  From the band's split 7″ with Perfect Pussy.
47)  :White Reaper – Half Bad:  There's so much energy and enthusiasm packed into this ripper from White Reaper that it's become one of my go-tos for whenever I need a pick-me-up.  From the band's self titled EP.
46)  :Sleater-Kinney – Bury Our Friends:  Sleater-Kinney are back and they've still got it!  Not that I'm in any way surprised, of course – Corin, Carrie and Janet are pure magic when they're together.  From No Cities To Love.
45)  :Perfume Genius – Queen:  While I didn't find Perfume Genius' latest album to be for me, I do love this song.  It's a powerful listen that grabs you and never lets go.  From Too Bright.
44)  :How To Dress Well – Repeat Pleasure:  This impeccably crafted track is no & It Was You, but I do think it's the most accessible that Tom Krell (aka How To Dress Well) has ever been.  From What Is This Heart.
43)  :Sophie – Lemonade:  Of all the songs that will appear on my Top 50 list, this pop blip from Sophie is the one I expect to divide people the most.  It's a weird and obnoxious earworm.  From the Lemonade/Hard single.
42)  :New Pornographers – Brill Bruisers:  There was a stretch this year where I just about wore out this gloriously upbeat track from New Pornographers.  Talk about power pop perfection.  From Brill Bruisers.
41)  :Terry Malts – Let You In:  Another year, another fuzzed out track from Terry Malts that's really difficult to get out of my head.  Things could be worse, I suppose.  From the Insides EP.
40)  :Braid – No Coast:  It was the arrival of this anthemic track that pushed me from curious to excited about Braid reuniting for a new full length (their first in 16 years).  From No Coast.
39)  :Eternal Summers – Gouge:  I've had this shoegazey number on repeat for just about the entirety of 2014.  I definitely think it's Eternal Summers' best song (so far).  From The Drop Beneath.
38)  :Letting Up Despite Great Faults – Wrapped:  This fantastic slice of dream pop is from one of my favorite bands in Austin, Letting Up Despite Great Faults.  It'll make you dance (and maybe cry a little).  From Neon.
37)  :Mas Ysa – Shame:  Thomas Arseneault (aka Mas Ysa) churns out some really interesting stuff.  For instance, this synthy gem is somehow both very calculated and super raw.  From The Worth EP.
36)  :Alvvays – Archie, Marry Me:  Sure, Alvvays is a pretty silly name, but that doesn't mean this song isn't one of the best lo-fi pop efforts of the year.  From the band's self titled album.
35)  :Pillar Point – Eyeballs:  I'm not sure that Scott Reitherman (formerly of Throw Me The Statue and now the main brain behind Pillar Point) has ever made a song that I didn't like.  The guy sure knows how to craft quality pop music.  From the band's self titled album.
34)  :Cymbals Eat Guitars – Chambers:  If you've ever wanted to hear Cymbals Eat Guitars as a full-on accessible rock act, then this is the song you've been looking for.  It's a good sound for them.  From Lose.
33)  :Ariel Pink – Put Your Number In My Phone:  When it comes to Ariel Pink, I'm always impressed with the way he's able to craft that one single every release that's a total ear-pleaser.  I think he does it on purpose so it's easier to dive into the bizarro creations that usually fill out his albums.  From Pom Pom.
32)  :Sylvan Esso – Coffee:  For a while I thought MS MR's fancy remix of this track was unbeatable, but in the end I found myself partial to the minimalistic sound of Sylvan Esso's original take.  From the band's self titled album.
31)  :Weaves – Shithole:  Every time I listen to this song I immediately want to travel back to the 90s so that I can be angsty about having to exist in the 90s.  Thanks for that, Weaves.  From the Shithole single.
30)  :The Dead Space – Behind The Wall:  Pretty much all of my dark-corner-brooding in 2014 was done while listening to this stellar piece of post-punk from Austin's own The Dead Space.  From Faker.
29)  :We Were Promised Jetpacks – I Keep It Composed:  This swirling song reinvigorated my love for We Were Promised Jetpacks.  I'm honestly not sure they've ever sounded as good as they do here.  From Unraveling.
28)  :Angel Olsen – Forgiven-Forgotten:  While I like Angel Olsen's slower and more intimate material, I found myself coming back to this little rocker of hers the most.  From Burn Your Fire For No Witness.
27)  :Shannon And The Clams – Mama:  This Shannon And The Clams song is splendid and permanently on my go-to list for whenever I'm in the mood for soul/doo-wop-enthused music.  From the band's split with Guantanamo Baywatch.
26)  :Saint Pepsi – Fiona Coyne:  My "song of the summer" this year was definitely this Saint Pepsi track.  It's immensely catchy.  And danceable.  And super fun.  From the Fiona Coyne single.
25)  :Tennis – I'm Callin':  I love this song for two reasons.  1) It's wonderfully easy on the ears.  2) It fully completes Tennis' transition from lo-fi indie band to full on pop act.  Not sure they could have done it any smoother.  From Ritual In Repeat.
24)  :Screaming Females – Wishing Well:  Screaming Females usually go right after your face, but for this track they decided to dial things back a bit.  It worked.  In fact, I think this is probably their best song.  From the Wishing Well single.
23)  :Phantogram – Fall In Love:  Phantogram blew up in 2014, and it was partly because of this single.  To be honest, I think it ranks a little lower than some of their older songs, but I still love it.  From Voices.
22)  :The War On Drugs – Red Eyes:  The War On Drugs really got me with this track.  I had only ever just appreciated them and their Springsteen-ish ways, but this is so damn good that they're now a favorite of mine.  From Lost In The Dream.
21)  :Future Islands – Seasons (Waiting On You):  This fantastic synth-pop song totally helped Future Islands wrangle in just under a bazillion new fans.  Good for them.  They deserve it.  From Singles.
20)  :Cherry Glazerr – Had Ten Dollaz:  Cherry Glazerr are a really young trio (two of them aren't even 18) who are already way cooler than any of us will ever be.  If you don't believe me, just listen to this attitude-laced gem.  From the Had Ten Dollaz single.
19)  :Deleted Scenes – You Get To Say Whatever You Want:  This song is so emotive that it'll either pull you out of a funk or completely toss you into one.  I love it.  Deleted Scenes are the best.  From Lithium Burn.
18)  :Dana Falconberry – Palmless:  Austin's own singer/songwriter extraordinaire Dana Falconberry collaborated with Spoon's Jim Eno on this track.  It's a pretty spectacular listen on all fronts.  From Public Hi-Fi Sessions 02.
17)  :Little Big League – Property Line:  I'm all about the 90s revival that's currently underway, but even if I wasn't I think I'd still dig this Little Big League track.  It's just about as sincere as can be.  From Tropical Jinx.
16)  :Diarrhea Planet – Spooners:  "It's all about the drugs, money, power, and getting off."  Well said, Diarrhea Planet.  Well said.  From the Aliens In The Outfield EP.
15)  :Sheer Mag – What You Want:  I stumbled across this riffy piece of retro rock back in October and I've been jamming it (probably too much) ever since.  If you're not on Sheer Mag's bandwagon, you should be.  From the band's debut 7″.
14)  :Tune Yards – Real Thing:  This track is Merrill Garbus (aka Tune Yards) throwing everything at a wall and somehow having all of it stick.  Hard not to be impressed, you know?  From Nikki Nack.
13)  :Dum Dum Girls – Rimbaud Eyes:  I have a variety of mixed feelings about the latest Dum Dum Girls' album, but I can't really complain since it features this immaculate pop tune.  From Too True.
12)  :Cloud Nothings – I'm Not Part Of Me:  Here's my favorite single off of the album that Cloud Nothings put out earlier this year.  The 90s-rock lover in me just can't get enough of it.  From Here And Nowhere Else.
11)  :Mikal Cronin – Soul In Motion:  Mikal Cronin knew that not putting out any new music in 2014 would hurt my feelings, so he contributed this fantastic song to Famous Class' 7″ series.  What a guy!  From LAMC #11.
10)  :Run The Jewels – Close Your Eyes (And Count To Fuck) (Featuring Zack De La Rocha):  Killer Mike and El-P each turn in rad work here, but it's actually Zack Del La Rocha that makes this Run The Jewels track something worth championing forever.  From RTJ 2.
09)  :FKA Twigs – Two Weeks:  Despite listening to this an enormous amount of times, it's still a song that forcefully grabs and holds my attention.   FKA Twigs is one of music's best new voices.  From LP1.
08)  :St. Vincent – Digital Witness:  Annie Clark (aka St. Vincent) is steadily pulling in a more mainstream audience, and I'm all about it.  The world is a better place with avant-pop gems like this one challenging the ears of the masses.  From her self titled album.
07)  :Interpol – All The Rage Back Home:  After Interpol released a couple of mediocre LPs and lost bassist Carlos D, I just knew I was done with them.  Or not.  This track is an inspired effort that has me once again confidently perched on their bandwagon.  From El Pintor.
06)  :Leon Bridges – Coming Home:  Leon Bridges has yet to "officially" put out anything, but he's already one of my favorite soul artists.  That's just how amazing this song is.  Keep an eye out for him in 2015.
05)  :Sharon Van Etten – Every Time The Sun Comes Up:  There's something about Sharon Van Etten being blatantly snarky that I can't help but find endlessly pleasing.  I'll never get tired of this slow-burner.  From Are We There.
04)  :Ought – Habit:  Admittedly, this wordy, vocally uneven slice of art-rock is a a bit odd, but if you give it a real shot you'll find that it's one of the most engaging experiences of the year.  From More Than Any Other Day.
03)  :Speedy Ortiz – American Horror:  If you ask me, the best of the 90s revivalist bunch is most definitely Speedy Ortiz.  I mean, just listen to this song, it's perfect.  From the Real Hair EP.
02)  :Parquet Courts – Instant Disassembly:  I know Parquet Courts are adored for blistering faces, but I think this lackadaisically-paced track is the best thing they've ever done.  I love the rambly vocals and brainy lyrics.  From Sunbathing Animal.
01)  :Spoon – Inside Out:  Here it is, my #1 song of 2014.  Congrats to the mighty Spoon!  They have a ton of great music in their repertoire, but this immaculate track really is some next level stuff for them.  Good on the two-decade old band for still pushing themselves to evolve and get better.  From They Want My Soul.