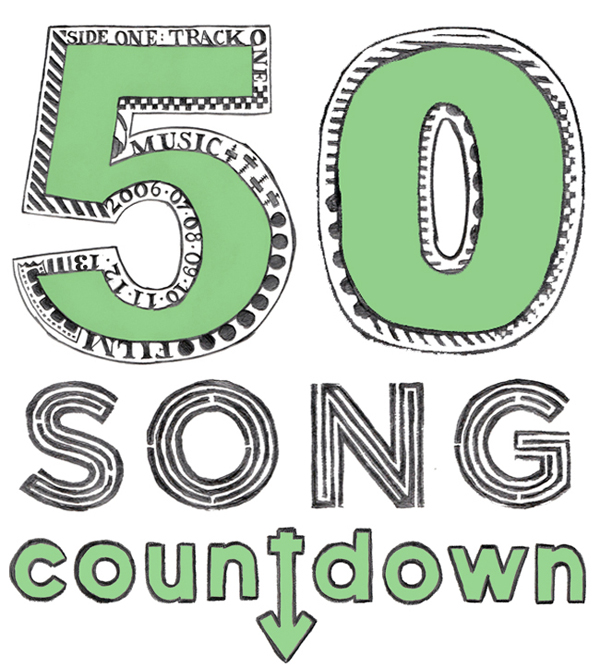 2013′s top 50 songs!  Enjoy.
PS – You can check out 47 of the 50 tracks on this list on Spotify here.
50)  :Daft Punk – Get Lucky:  Yes, this is the most over-played song of 2013.  No, I don't really care.  Daft Punk really nailed it with this earworm of a track, and I'll probably hum it for the rest of eternity.  From Random Access Memories.
49)  :Black Milk – Sunday's Best/Monday's Worst:  Technically this is two songs, but I decided to leave them merged to better help you understand why I think Curtis Cross (aka Black Milk) continues to be one of hip hop's best storytellers.  From No Poison No Paradise.
48)  :The Tontons – Veida:  The Tontons are from Houston, and I think they're pretty close to being special.  If I were you, I'd snatch up this shimmering gem and find a seat on their bandwagon now.  From the Veida digital single.
47)  :Anamanaguchi – Planet:  I'm on the fence when it comes to most of Anamanaguchi's stuff, but this track really works for me.  I think it's because it has a fleshed out sound and doesn't just come off as a piece of meme/8-bit fandom.  From Endless Fantasy.
46)  :Phoenix – Entertainment:  Once again Phoenix swept me off my feet with a killer lead single and then promptly tossed me on the ground with a bland album.  Fool me twice, something something.  From the Bankrupt.
45)  :Alpine – Gasoline (Mystery Skulls Remix):  The original version of this Alpine track is good, but it plays kind of small.  I definitely prefer this bigger, more confident take by Mystery Skulls.  This remix is a one-off release.
44) :Best Coast – I Don't Know How:  Admittedly, this is one of Best Coast's more cheesy efforts.  I love it, though, and I have no shame in saying I've had some serious sing-a-long sessions with it in the car.  From the Fade Away EP.
43)  :Majical Cloudz – Childhood's End:  If you want something that's hauntingly beautiful, then this Majical Cloudz track is for you.  Just be sure to toss on some headphones before hitting play.  From Impersonator.
42)  :Savages – She Will:  This song is so intense that sometimes when I listen to it I worry that Savages will show up at my door and yell at me for not rocking hard enough.  From Silence Yourself.
41)  :The Appleseed Cast – Great Lake Derelict:  It's kind of amazing how quickly this track can put me in a mood to listen to nothing but post-rock all day.  It's good for the world that The Appleseed Cast are still a quality act.  From Illumination Ritual.
40)  :Yeah Yeah Yeahs – Sacrilege:  I can't at all figure out what overall direction the Yeah Yeah Yeahs are heading in, but I don't think that's necessarily a bad thing.  I gave this weird track a lot of plays in 2013.  From Mosquito.
39)  :Desaparecidos – The Left Is Right:  To be honest, I equally dig each of the four songs that Desaparecidos released this year.  I listed this one simply because it reminds me the most of the band's 2002 effort, Read Music/Speak Spanish.  From The Left Is Right/Anonymous 7″.
38)  :Terry Malts – I Was Not There:  Terry Malts and this fuzzy pop punk gem of theirs muddled up a good portion of my summer. Fortunately, I didn't mind. At all. From Nobody Realizes This Is Nowhere.
37)  :Eat Skull – Space Academy:  Way back in January I called this Eat Skull effort the first great rock track of 2013, and in the time since then I've only grown even more fond of its swirling guitars.  You need this if you like noise.  From III.
36)  :The Callas – Anger:  The great thing about the Callas on this track is that they give you two of the things that tend to make rock n' roll a lot of fun -  a good hook and shit ton of attitude.  I approve.  From Am I Vertical?.
35)  :Sleigh Bells – You Don't Get Me Twice:  I thought that perhaps I was done with Sleigh Bells, but then this raucous anthem came along and reminded that when inspired, not many are as fun as they are.  From Bitter Rivals.
34)  :Metronomy – I'm Aquarius:  This might be my favorite Metronomy song ever.  If you can manage to not adore it whenever the "shoop doop" part kicks in, then there might be something wrong with you.  From Love Letters.
33)  :Tennis – Mean Streets:  Tennis have now completely moved away from sounding like they just got off a sail boat, and I love it.  I really didn't think they had a slinky dance pop number like this one in them.  From the Small Sound EP.
32)  :Tony Molina – Breakin Up:  This little pop tune from Tony Molina is just a minute and half long, but it packs some great songwriting and a really nice guitar solo.  Talk about being efficient.  From the Six Tracks EP.
31) :Charles Bradley – Strictly Reserved For You:  With Sharon Jones battling cancer, I looked to Charley Bradley for my soul fix, and he didn't fail me.  This is one of his better songs.  From Victim Of Love.
30)  :Action Bronson – The Rockers (Featuring Wiz Khalifa):  Out of the ton of good stuff that Action Bronson released in 2013, this track is my favorite.  He sounds great in it, and I especially dig the Wiz Khalifa verse.  From the SAAAB Stories EP.
29)  :Phantogram – Celebrating Nothing:  At some point in 2014 I'm going to finally get a new Phantogram album.  Until then, I'll just let this gem swirl around in my head.  From their self titled EP.
28)  :Divine Fits – Ain't That The Way:  If you ask me, this is the best Spoon cover that Divine Fits have ever done.  Ha!  Seriously though, it's a pretty great pop song.  From the Ain't That The Way/Chained To Love digital single.
27)  :M.I.A. – Y.A.L.A.:  Another year, another great single from M.I.A.  She may be a bit unhinged, but her work is consistently interesting and worth your time.  From Matangi.
26)  :Joanna Gruesome – Sugarcrush:  This infectious piece of noise pop has been a favorite of mine for months.  Also, as a Joanna Newsom fan, I'm admittedly a sucker for the name Joanna Gruesome.  From Weird Sister.
25)  :The Orwells – Other Voices:  While the hard working, fresh out of high school dudes in the Orwells make me feel lazy and old, I can't help but dig their music.  This rock tune is as catchy as it gets.  From the Other Voices EP.
24)  :Son Lux – Lost It To Trying:  This song is definitely Sigur Ros-light, but I think that actually makes me like it more.  Toss on headphones or just crank your stereo, either approach works well with Son Lux.  From Lanterns.
23)  :The Men – The Seeds (Acoustic Version):  The original version of this track is rather nice, but I think the acoustic take really makes for something special.  It's definitely my favorite song by the Men.  From the Campfire Songs EP.
22)  :Youth Lagoon – Dropla:  Throughout the year this Youth Lagoon song was one of my go-tos for when I just wanted to kick back and listen to something.  It has such a stellar, well layered arrangement.  From Wondrous Bughouse.
21)  :Lightning Dust – Loaded Gun:  I ended up not loving Lightning Dust's new synth-enthused sound as much as I thought I would, but I do think this particular song is rad.  Be sure to jam it.  From Fantasy.
20)  :Minks – Margot:  I know some folks weren't a fan of Minks cleaning up their sound, but I thought it was an alright move.  This song in particular is great and reminds me of early 2000s indie pop.  From Tides End.
19)  :Okkervil River – It Was My Season:  As I said when this made my Austin Essentials list, it's that one song Okkervil River seem to have on every album that I can't get enough of.  From The Silver Gymnasium.
18)  :Parquet Courts – You've Got Me Wonderin' Now:  To be honest, I totally didn't get all the love for Parquet Courts until this song came along.  I appreciate its adequate amount of snarl.  From the Tally All The Things That You Broke EP.
17)  :A Giant Dog – All I Wanted:  Austin's finest pop punk band is A Giant Dog, and I think this is their best song.  It rocks and does well to show off Sabrina Ellis' stellar voice.  From Bone.
16)  :Wavves – Demon To Lean On:  I didn't at all think Wavves would ever turn into a 90s-esque alt-rock band, but here they are doing it and doing it well.  I approve.  From Afraid Of Heights.
15)  :White Denim – At Night In Dreams:  The heaviest song on White Denim's 2013 effort is also my favorite from it.  I don't know how many times I've tried to blow out my speakers via this track.  From Corsicana Lemonade.
14) :Swearin' – Watered Down:  I love any sort of indie rock that feels lifted out of the 90s, so I was hooked on this pretty much immediately.  Be warned, Swearin' will make you want to dig up tons of old records.    From Surfing Strange.
13)  :Four Fists – MMMMMHMMMMM:  POS and Astronautalis as one act?  Yes.  Forever.  If we're lucky, this rad track is just the beginning of something awesome.  From Four Fists' self titled 7″ single.
12)  :Polica – Chain My Name:  Earlier this year I couldn't wait to get a hold of Polica's sophomore effort, and it was largely because of this track.  It's super dancey and completely set on never leaving your head.  From Shulamith.
11)  :Courtney Barnett – Avant Gardener:  This wordy number from Courtney Barnett was a favorite of mine before I was even done listening to it for the first time.  She's a fantastic storyteller.  From the A Sea Of Split Peas EP.
10)  :Jonny Fritz – Ain't It Your Birthday:  If I were doing a list of the year's most fun songs, there's a good chance I would slap this in the #1 spot.  Jonny Fritz is a rad dude.  From Dad Country.
09)  :Veronica Falls – Buried Alive:  This song is so hopelessly romantic.  And well made.  And catchy.  And just awesome.  I've actually listened to it so much that I'm surprised I didn't burn myself out on it.  From Waiting For Something To Happen.
08)  :Quasi – You Can Stay But You Gotta Go:  The return of Quasi was fronted by this wonderfully sloppy 90s-ish indie rock track.  It deserves to be played at a volume that might get you evicted.  From Mole City.
07)  :Ellie Goulding – Tessellate (Alt-J Cover):  This is actually the second year in a row that Ellie Goulding has landed a one-off cover in the top 10 of my song list.  If you ask me, that probably means she should hurry up and do a covers album.
06)  :Haim – The Wire:  I know everyone digs Falling, but this is the song that made me appreciate/love Haim.  It's like Shania Twain meets arena rock, which is weird but apparently what I've always wanted.  From Days Are Gone.
05)  :Diarrhea Planet – Separations:  Yes, the name Diarrhea Planet is silly.  Now with that out of the way, please allow this song to rock your soul.  From I'm Rich Beyond Your Wildest Dreams.
04)  :Yuck – Middle Sea:  Yuck lost a frontman and then just continued on like it was nothing.  That's impressive.  I think this is one of the best songs in their catalog.  From Glow And Behold.
03) :Chvrches – Recover:  The Mother We Share is a great track (that ranked high on my song list last year), but part of me feels like this is Chvrches' best single.  Such synth-pop goodness.  From The Bones Of What You Believe.
02)  :Mikal Cronin – Shout It Out:  I was so very close to putting this Mikal Cronin gem in the top spot.  It really is one of the better pop rock songs to come along over the last year or three.  From MCII.
01)  :Vampire Weekend – Step:  It wasn't until I sat down to do this list that I realized just how much I adore this Vampire Weekend track.  I think it's an endlessly impressive piece of pop music that's totally deserving of all the time and attention you can spare.  From Modern Vampires Of The City.