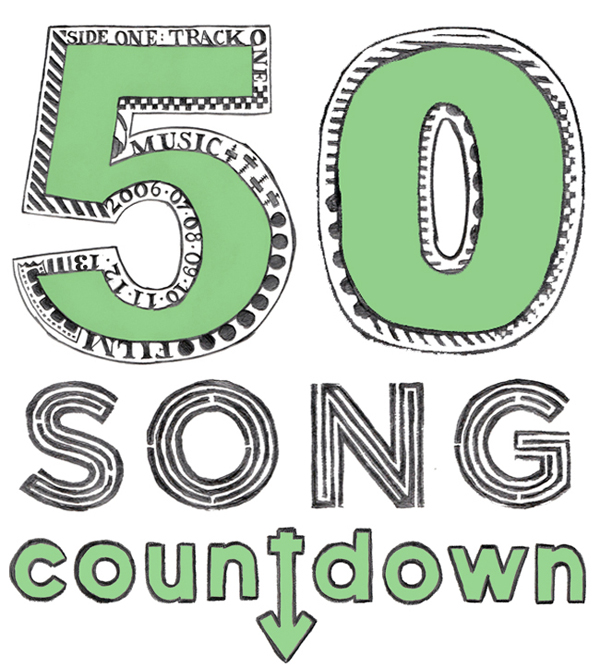 Because it would just be totally weird to skip part two of my Top 50 Songs Of 2013, here it is.  Enjoy.
40)  :Yeah Yeah Yeahs – Sacrilege:  I can't at all figure out what overall direction the Yeah Yeah Yeahs are heading in, but I don't think that's necessarily a bad thing.  I gave this weird track a lot of plays in 2013.  From Mosquito.
39)  :Desaparecidos – The Left Is Right:  To be honest, I equally dig each of the four songs that Desaparecidos released this year.  I listed this one simply because it reminds me the most of the band's 2002 effort, Read Music/Speak Spanish.  From The Left Is Right/Anonymous 7″.
38)  :Terry Malts – I Was Not There:  Terry Malts and this fuzzy pop punk gem of theirs muddled up a good portion of my summer.  Fortunately, I didn't mind.  At all.  From Nobody Realizes This Is Nowhere.
37)  :Eat Skull – Space Academy:  Way back in January I called this Eat Skull effort the first great rock track of 2013, and in the time since then I've only grown even more fond of its swirling guitars.  You need this if you like noise.  From III.
36)  :The Callas – Anger:  The great thing about the Callas on this track is that they give you two of the things that tend to make rock n' roll a lot of fun -  a good hook and shit ton of attitude.  I approve.  From Am I Vertical?.
35)  :Sleigh Bells – You Don't Get Me Twice:  I thought that perhaps I was done with Sleigh Bells, but then this raucous anthem came along and reminded that when inspired, not many are as fun as they are.  From Bitter Rivals.
34)  :Metronomy – I'm Aquarius:  This might be my favorite Metronomy song ever.  If you can manage to not adore it whenever the "shoop doop" part kicks in, then there might be something wrong with you.  From Love Letters.
33)  :Tennis – Mean Streets:  Tennis have now completely moved away from sounding like they just got off a sail boat, and I love it.  I really didn't think they had a slinky dance pop number like this one in them.  From the Small Sound EP.
32)  :Tony Molina – Breakin Up:  This little pop tune from Tony Molina is just a minute and half long, but it packs some great songwriting and a really nice guitar solo.  Talk about being efficient.  From the Six Tracks EP.
31)  :Charles Bradley – Strictly Reserved For You:  With Sharon Jones battling cancer, I looked to Charley Bradley for my soul fix, and he didn't fail me.  This is one of his better songs.  From Victim Of Love.