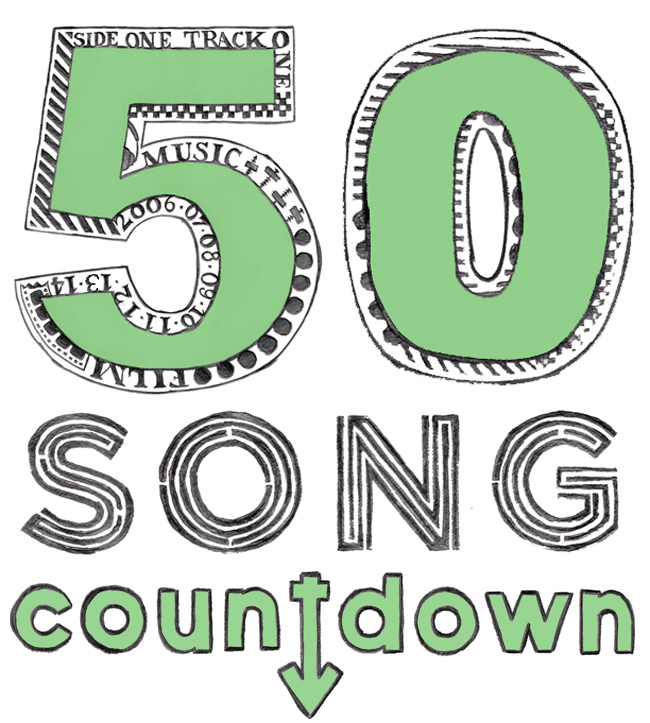 We've now arrived at the middle section of my Top 50 Songs of 2014.  Check out Part ONE & TWO if you haven't already.  Otherwise, get on with cruising today's list!  Enjoy.
30)  :The Dead Space – Behind The Wall:  Pretty much all of my dark-corner-brooding in 2014 was done while listening to this stellar piece of post-punk from Austin's own The Dead Space.  From Faker.
29)  :We Were Promised Jetpacks – I Keep It Composed:  This swirling song reinvigorated my love for We Were Promised Jetpacks.  I'm honestly not sure they've ever sounded as good as they do here.  From Unraveling.
28)  :Angel Olsen – Forgiven-Forgotten:  While I like Angel Olsen's slower and more intimate material, I found myself coming back to this little rocker of hers the most.  From Burn Your Fire For No Witness.
27)  :Shannon And The Clams – Mama:  This Shannon And The Clams song is splendid and permanently on my go-to list for whenever I'm in the mood for soul/doo-wop-enthused music.  From the band's split with Guantanamo Baywatch.
26)  :Saint Pepsi – Fiona Coyne:  My "song of the summer" this year was definitely this Saint Pepsi track.  It's immensely catchy.  And danceable.  And super fun.  From the Fiona Coyne single.
25)  :Tennis – I'm Callin':  I love this song for two reasons.  1) It's wonderfully easy on the ears.  2) It fully completes Tennis' transition from lo-fi indie band to full on pop act.  Not sure they could have done it any smoother.  From Ritual In Repeat.
24)  :Screaming Females – Wishing Well:  Screaming Females usually go right after your face, but for this track they decided to dial things back a bit.  It worked.  In fact, I think this is probably their best song.  From the Wishing Well single.
23)  :Phantogram – Fall In Love:  Phantogram blew up in 2014, and it was partly because of this single.  To be honest, I think it ranks a little lower than some of their older songs, but I still love it.  From Voices.
22)  :The War On Drugs – Red Eyes:  The War On Drugs really got me with this track.  I had only ever just appreciated them and their Springsteen-ish ways, but this is so damn good that they're now a favorite of mine.  From Lost In The Dream.
21)  :Future Islands – Seasons (Waiting On You):  This fantastic synth-pop song totally helped Future Islands wrangle in just under a bazillion new fans.  Good for them.  They deserve it.  From Singles.